My printer has divorced
my computer.
There was a little ceremony
last week after midnight.
Some clicking and a whine of separation.

Now my printer prints randomly,
wakes me from slumber
with industrious humming
and rattle of snatched paper.
Here come some Venn diagrams
and a page of Portuguese.

Of course I could unplug it
or even take a hammer to it
but I like the messages.

It invites me to random events,
emits puppies and kittens,
warns me about exotic diseases.
I'm hoping it will finish up the poems
I abandoned years ago
for lack of interest.

Cut off from its source and reason
I thought it would surely die,
yet I keep watching it from the margin
of my vision eagerly, expectantly.
Š by Janet McCann.
Used with the author's permission.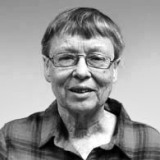 Janet McCann has been teaching creative writing and other vices to Aggies at Texas A&M for more than forty years. Her award-winning work is widely published in several genres. Janet's most recent collection is The Crone at the Casino, published by Lamar University Press. She is concerned for feral cats and other beings who are overlooked or abused.
transitions:
Really enjoyed this!
Posted 04/20/2016 01:34 PM
wordlover:
This is a droll darling poem. Misery loves company; I'm having printer troubles as well. Sometimes poems put things in perspective. This one did for me.
Posted 04/20/2016 08:43 AM
KevinArnold:
Fun.
Posted 04/20/2016 08:42 AM
cork:
Reminds me of the time my GPS switched from English to Africaans.
Posted 04/20/2016 08:39 AM
paradea:
Absolutely love this. My printer sounds like its clearing its throat before spitting out a copy, Ross, but doesn't have the far-flung experience in the 'world of random' that Janet's does.
Posted 04/20/2016 07:19 AM
paula:
Ah, technology. What fun (the printer and the poem)!
Posted 04/20/2016 06:43 AM
bbatcher:
The pop-up ad which my browser decided would be appropriate to accompany this poem was for a divorce lawyer! Ain't technology wonderful!
Posted 04/20/2016 06:30 AM
Newf:
Just wonderful! I would love to meet Janet McCann.
Posted 04/20/2016 06:15 AM
rhonasheridan:
Well done Janet! That is brilliant. I am in the middle of wondering if I should throw it out of the window or just jump on it!!
Posted 04/20/2016 06:15 AM
Jean :D:
I agree with Ross K., love this poem. I went through this situation just yesterday. Do printers come with an inflated ego, or only when hooked up with the computer???
Posted 04/20/2016 05:57 AM
Ross Kightly:
I love this! Exactly the kind of thing the word serendipity was coined for!! Technology with a cussed mind of its own oh yeah! Please tell me how I can get my mundane printer which is generally obedient (if a bit OCD about preparing itself for minutes at a time when I have asked it merely to print one page) to produce magical gifts from the world of random!
Posted 04/20/2016 04:59 AM