Ancient one, you have watched
over a hundred generations of my kind.
Your ugliness is softened only
by bird nests that hang like pendants,
and greening when the spring rains come.

You are an oasis in the desert.
You pocket water in hidden cavities
for thirsty travelers, who make
lemonade of the powder in your seeds
and drink it to calm their ailments.

You are the eternal shelter to all creatures.
This morning school children gathered
in your shade for lessons.
Tonight a leopard will stretch
across your loins and sleep.
From For Love of Trees (Mina-Helwig, 2009).
Used with the authorís permission.
†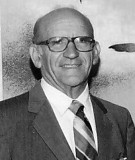 Edward Hujsak (1925 - 2018) was born in New Hampshire to a Polish farming family. A chemical engineering graduate of the University of New Hampshire, Ed worked on propulsion systems at General Dynamics during development of the Atlas and Centaur rockets. He was propulsion engineer on John Glenn's famous orbital flight and served as chief of preliminary design at General Dynamics Astronautics Division for ten years, accumulating more than a dozen patents in the aerospace field. In addition to his numerous engineering achievements, Ed was a writer, artist, sculptor, and builder of furniture and musical instruments. In his spare time, Ed made more than 2000 wooden birds, dogs, and race cars for the San Diego Fine Woodworkers Association, which distributes them to sick and needy children.
Dorcas:
Ah Earth, the alixer of life; from dust we are made.
Posted 04/22/2016 05:05 PM
Lori Levy:
Especially like the last line.
Posted 04/22/2016 12:15 PM
transitions:
Love these trees...great poem.
Posted 04/22/2016 11:41 AM
barbsteff:
… a leopard will stretch across your loins and sleep. What great language!
Posted 04/22/2016 11:20 AM
mjs.ontheroad@gmail.com:
Beautiful poem *perfect* for Earth Day!
Posted 04/22/2016 10:34 AM
r1manchester:
nice poem Ed and....I learned a new word to boot!
Posted 04/22/2016 09:04 AM
ElizabethP:
Wonderful image of an awesome wonder.
Posted 04/22/2016 08:52 AM
Newf:
Awesome tree! Nice poem.
Posted 04/22/2016 06:30 AM