he has been a squirrel
a thundercloud
the farmer in the dell

also a school bus
a maccabee
a narwal
(imagine the horn artfully crafted from three toilet paper rolls stuck together with duck tape)

I've spent hours squirming on hard grey folding chairs
in chilly gymnasiums
camera at the ready
smile undimmed
even when my stop sign missed his cue
or when Alexander Hamilton slipped on his shoelace
which came undone
even though I reminded him to tie a double knot

tonight he is an eggplant
and I am a proud peacock
© by Judi Brown.
Used with the author's permission.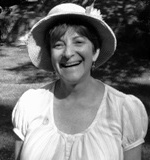 Judi Brown wrote her first poem in 2008; she says "they have been flowing through me" ever since, and she keeps paper and pen handy so she can capture whatever, whenever it comes. Judi describes her day job  as "immensely rewarding;" she raises funds to support causes that are meaningful to her and which help to repair and improve the world. Judi enjoys walking in the woods and laughing with family and friends.
Jo:
You were right, Jayne. What a fun poem, a delightful poem.
Posted 04/25/2016 04:53 PM
Lori Levy:
Perfectly captures the experience of watching one's young child on the stage. And I like the last line in the bio about enjoying walking in the woods and laughing with family and friends!
Posted 04/25/2016 12:09 PM
barbsteff:
Delightful and artfully done. Judi's smile matches the tone of her poem.
Posted 04/25/2016 11:21 AM
KevinArnold:
I love the duck tape!
Posted 04/25/2016 11:20 AM
blueskies:
A delight! Wearing an eggplant smile all day. Thanks, Judi.
Posted 04/25/2016 10:36 AM
Sherry:
This is so cute!
Posted 04/25/2016 09:51 AM
erinsnana:
I loved this!
Posted 04/25/2016 09:34 AM
Marilyn L Taylor:
No tears for this one, Jayne-- just a great big smile for Judi Brown's charming poem.
Posted 04/25/2016 08:14 AM
paradea:
Love it. Reminds me of my crazy niece who was once the island of Hilton Head, SC for Halloween!
Posted 04/25/2016 07:46 AM
Newf:
What a wonderful mother. Brings back all kinds of memories.
Posted 04/25/2016 06:16 AM
vscholtz:
And your mother is the proud parent of a poet!
Posted 04/25/2016 05:03 AM
Contents of this web site and all original text and images therein are copyright © by Your Daily Poem. All rights reserved.
As an Amazon Associate I earn from qualifying purchases. Purchasing books through any poet's Amazon links helps to support Your Daily Poem.
The material on this site may not be copied, reproduced, downloaded, distributed, transmitted, stored, altered, adapted,
or otherwise used in any way without the express written permission of the owner.