for Beth
Well, what can you expect, really?
The universe is so vast
and we are so small,
so accidental.

What are the odds
of occupying the proper space
at the correct time?
If we ever get it right,
once in a great while, perhaps,
it's like a gift,
a present
of the present.
Sometimes maybe it's terpsing a tango
in Buenos Aires,
and sometimes just talking
with a friend in a tea shop,
but for then, you know

you are where you belong
and it's a gift for sure.

This poem first appeared in Masquerades and Misdemeanors, Poems of the Hartford Avenue Poets (Pebblebrook Press, 2013).
Used here with the author's permission.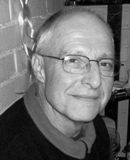 Ed Werstein retired from a three-stop career in manufacturing, union activism, and non-profit work in 2014. In 2009, at the age of 60, he claims his muse finally awoke and dragged herself out of bed; he's been writing ever since. Ed is a regional vice-president of the Wisconsin Fellowship of Poets (wfop.org). His chapbook, Who Are We Then?, was published in 2013 by Partisan Press. Ed lives in Milwaukee, Wisconsin.


Katrina:
I be long grasses and rustling reeds.
Posted 04/28/2016 02:40 AM
Maryann Hurtt:
YES, Ed!
Posted 04/27/2016 05:59 PM
transitions:
A present of the present...loved that. Enjoyed ~
Posted 04/27/2016 01:58 PM
Jo:
You capture the feeling so well Ed. "Terpsing the Tango is on my tongue today."
Posted 04/27/2016 10:58 AM
barbsteff:
Ed's poetry always startling in a half-step ahead, or behind, askew, sort of way. "terpsing"? Wonderful.
Posted 04/27/2016 10:23 AM
marilynfleming:
I love your poem. Very insightful.
Posted 04/27/2016 10:13 AM
Michael:
Wonderful, wise message, Ed. Thank you.
Posted 04/27/2016 09:36 AM
Caro70:
…terpsing a tango… Wonderful!
Posted 04/27/2016 09:11 AM
Dorcas:
Yes, we are where we are meant to be; so make the most of it, no one is cheated. We serve our purpose in some way, as Milton paraphrased "they serve who only stand and wait."
Posted 04/27/2016 08:56 AM
Janet Leahy:
It is just 'once in a great while" that this happens, your poem captures that moment so well, thanks Ed/
Posted 04/27/2016 08:52 AM
paradea:
Wonderful poem!
Posted 04/27/2016 08:13 AM
tiddles:
I love the thought that we are "accidental." Will think about that all day. Good poem, Ed! Marilyn Windau
Posted 04/27/2016 07:40 AM
jeanie:
great thought to always keep in mind. thanks, ed!
Posted 04/27/2016 07:23 AM
rksanders@charter.net:
Yes, Ed. I wish I could realize that more often.
Posted 04/27/2016 06:51 AM
mimi:
hi Ed! love love the poem!
Posted 04/27/2016 06:21 AM
vscholtz:
Thanks for your perspective on the joys (& frustrations) of the everyday.
Posted 04/27/2016 06:12 AM
Gary Busha:
You got it right. Thanks.
Posted 04/27/2016 06:04 AM
paula:
Love that feeling.
Posted 04/27/2016 05:55 AM