The yellow iris digs its roots into the water
which is wild despite being still and broad.
This is the land of rivers and lakes backyard ponds
streams that chuckle down small slopes
into bowl-like basins carved eons ago
by glaciers shoving their slow way over
unresisting ground. Where, now, a river
settles in, holds evening sky on its surface,
plays host to the yellow iris and its flat-bladed
silent leaves. Plays host to the fish
that leaps, white, to break the settled water
near where the woman stands in her white skin
leaning on an unnamed tree, next to blooming
flowers. It 's a beauty contest and everything wins:
iris, fish, woman, the river that feeds them.
†
© by†Grace Marie Grafton.
Used with the authorís permission.
†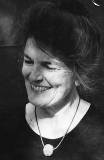 Grace Marie Grafton has taught young students in grades 1-5 to appreciate and write poetry for over thirty years, as a poet and teacher active in the California Poets In the Schools organization. Her goal has been to support and develop the natural fascination with language of the young child and to encourage what she believes is an inborn love of poetry before it's "rationalized" out of most of us by about nine years of age. Grace's own poems have appeared in hundreds of literary magazines, and she is the author of six books of poems, the most recent being Jester. Her inspiration springs from nature, art and the poetry of others. Raised in California's Central Valley, Grace now lives in the San Francisco Bay Area with her husband and extended family. From her windows, she regularly sees deer, squirrels, woodpeckers, ravens and wild turkeys.
Lori Levy:
Beautiful!
Posted 05/26/2016 11:21 PM
jtmilford:
A beautiful poem.
Posted 05/26/2016 07:07 PM
ElizabethP:
This is brilliant. I can see it all. Everything wins. Thanks!
Posted 05/26/2016 03:18 PM
Michael:
Love this Grace. Like: "holds evening sky on its surface" Thank you.
Posted 05/26/2016 02:08 PM
transitions:
Loved it all...Judy W.
Posted 05/26/2016 02:06 PM
Jo:
Beautiful.
Posted 05/26/2016 01:15 PM
loisflmom:
Just beautiful!
Posted 05/26/2016 12:36 PM
jeeger:
I love win/wins!
Posted 05/26/2016 09:28 AM
Jancan:
This is a really lovely poem! Janice
Posted 05/26/2016 09:23 AM
cork:
Oh, the power of glaciers!
Posted 05/26/2016 08:35 AM
blueskies:
Sez IT all...It's a beauty contest and everything wins! Stunning visuals.
Posted 05/26/2016 06:35 AM
Jean :D:
Amazing what Grace can do with all those descriptive words in one small poem. Makes one's imagination swirl. Delightful!
Posted 05/26/2016 06:28 AM
Newf:
I just love running water. This poem is sheer beauty.
Posted 05/26/2016 04:52 AM
rhonasheridan:
What a pretty poem.
Posted 05/26/2016 04:15 AM