Child, do not throw this book about;
Refrain from the unholy pleasure
Of cutting all the pictures out!
Preserve it as your chiefest treasure.
Child, have you never heard it said
That you are heir to all the ages?
Why, then, your hands were never made
To tear these beautiful thick pages!
Your little hands were made to take
The better things and leave the worse ones.
They also may be used to shake
The Massive Paws of Elder Persons.
And when your prayers complete the day,
 Darling, your little tiny hands
Were also made, I think, to pray
For men that lose their fairylands.
This poem is in the public domain.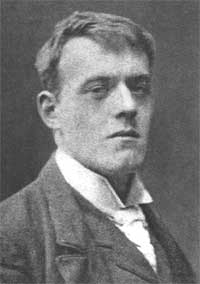 Hilaire Belloc (1870 - 1953) was born in France to a French attorney and an English feminist writer. The family moved to England while Hilaire was still a toddler. A friend of sci-fi writer H. G. Wells and playwright George Bernard Shaw, Hilaire was a devout Catholic and successful journalist who also wrote inspirational poetry, cautionary tales, nonfiction, and children's verse, authoring more than 150 books during his lifetime. Considered one of the brilliant thinkers of the 20th century, his essays and observations on history remain in great esteem even today.
barbsteff:
Ah - those of us who have lost, or misplaced, or fairylands need prayers! Delightful read.
Posted 05/31/2016 01:30 PM
rhonasheridan:
I gazed at my massive paws in awe. A lovely poem
Posted 05/31/2016 11:21 AM
cork:
I have not lost my fairy lands!
Posted 05/31/2016 08:48 AM
Gilbert Allen:
"The Massive Paws of Elder Persons" is nifty.
Posted 05/31/2016 07:49 AM
paradea:
Lyrical and sweet. Fun to read.
Posted 05/31/2016 07:36 AM