Sometimes fog
surrounds morning
in a white room;
then the silence
of sunlight seeps
into balsam shadows.
Steam is silence too,
slipping over the brim
of bone china
in the coffee-quiet
of morning.

This poem first appeared in the Wisconsin Poets Calendar (2003).
Used here with the author's permission.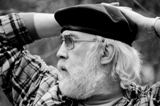 Jeffrey Johannes is an artist and poet who lives in Port Edwards, Wisconsin. He co-edited the 2012 Wisconsin Poets' Calendar with his wife, Joan. Jeffrey is the author of a chapbook, Ritual for Beginning Again, and is currently combining his art and poetry to create comics, which he calls "pometoons." Learn more about him here.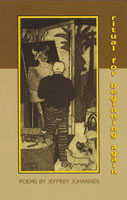 jtmilford:
A beautiful description. Thanks
Posted 06/22/2016 04:16 PM
Katrina:
Can caffeine keep quiet?
Posted 06/22/2016 05:06 AM
transitions:
Lovely
Posted 06/21/2016 12:34 PM
rhonasheridan:
The beauty of silence. Very lovely. Thank you.
Posted 06/20/2016 04:32 PM
barbsteff:
Stunnning observations and commitment, Jeffrey! Mu h truth to emulate here.
Posted 06/20/2016 11:35 AM
TheSilverOne:
Loved this peaceful poem! ~Doris Bezio
Posted 06/20/2016 10:58 AM
erinsnana:
Nice!
Posted 06/20/2016 10:21 AM
Jo:
steam as silence--I never thought of it that way but how true--as we bend our face into the steam of morning coffee.
Posted 06/20/2016 09:54 AM
Lori Levy:
Soothing.
Posted 06/20/2016 09:50 AM
michaelanderson:
Ahh, the steam "slipping over the brim of/bone china" Well done!
Posted 06/20/2016 09:02 AM
wendy morton:
Spare and lovely.
Posted 06/20/2016 08:51 AM
Marilyn L Taylor:
A wonderful poetic snapshot, Jeffrey. I sit in silent admiration.
Posted 06/20/2016 08:38 AM
Michael:
Thank you Jeffrey. Really like the "s" sounds in this poem.
Posted 06/20/2016 07:40 AM
blueskies:
...in the coffee quiet of the morning. Know that neighborhood. Well said. Thank you,Jeffery.
Posted 06/20/2016 07:18 AM
Janet Leahy:
Sounds bring music to this poem, I never thought of steam as silence but it works so well here "slipping over the brim of bone china." Thanks Jeffrey, you've captured this moment in time.
Posted 06/20/2016 06:48 AM
Gary Busha:
Yes.
Posted 06/20/2016 05:54 AM