I should have turned left when leaving the gym
but my car veered right and drove to Dunkin'
Donuts. I looked at the menu with egg-white flatbread
but bacon guacamole caught my eye instead
and I should have stuck to something like that?
high protein, low sugar and practically no fat
but a coconut donut seemed to call my name
subliminal message through the kiosk it came
enticing me like a free vacation
calorie-free intoxication.
I know I should have driven away
but the Munchkins and fritters won today.


© by Laurie Kolp.
Used with the author's permission.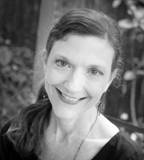 Laurie Kolp lives in Southeast Texas with her husband, three children, and two dogs. She recently returned to teaching after a 14-year hiatus, which she says has been "quite an experience." Laurie is the author of Upon the Blue Couch and Hello, It's Your Mother. Learn more about her at http://lauriekolp.com.
barbsteff:
True to human nature!
Posted 06/24/2016 11:20 AM
lkkolp:
Thanks everyone!
Posted 06/23/2016 01:09 PM
loisflmom:
I was pumping next to you at the gym and sitting next to you at Dunkin Donuts-- figuratively!
Posted 06/23/2016 09:27 AM
paradea:
Yep. Hate it when that happens, but every so often you just have to say 'What the heck'!! Great poem,
Posted 06/23/2016 09:11 AM
jeeger:
I have a car like that, with a mind of its own! Loved the poem!
Posted 06/23/2016 08:04 AM
blueskies:
And you know my sweet daughter-in-law exactly how??? Great wake-up-glee! Thanks,Laurie
Posted 06/23/2016 07:25 AM
JanetruthMartin:
thank-you for the chuckle:) I esp. like this: enticing me like a free vacation calorie-free intoxication. Sweetly surprised to see you here at YDP!
Posted 06/23/2016 05:36 AM
rhonasheridan:
So they should have! I am a great friend of the Munchkins. A 'sweet' little poem!
Posted 06/23/2016 05:34 AM