The word is
this year the deer
don't eat Dusty Miller.
That's the word.
Last year it was zinnias
and hollyhocks.
But the only thing certain
is lamb's ear and marigolds.
Daylilies they devour.
Petunias and cannas 
are a moment on their lips.
Hostas are a meal. Alpine
lilies they relish and lettuce . . .
an absolute invitation.
Overnight they know
and mow down a row.
Tomatoes they swallow
green and whole and nibble
the stalk as afterthought.
Carrots, peas, pole beans.
Nothing stands a chance
when they tuck their white bibs,
follow their noses
and lick their lips
not waiting at the table.
© by Ruth Moose.
Used with the author's permission.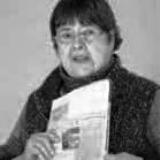 Ruth Moose was on the Creative Writing faculty at the University of North Carolina-Chapel Hill for 15 years. Author of three collections of short stories and six collections of poetry, her work has appeared in publications all over the world. Ruth, who lives in Pittsboro, North Carolina, was awarded a MacDowell Fellowship and, in 2009, received the prestigious Chapman Fellowship for Teaching. Her debut novel, Doing it at the Dixie Dew, was awarded a $10,000 Malice Domestic Prize. Ruth's most recent novel is Wedding Bell Blues (St. Martin's Press). Learn more about her at www.ruthmoose.com.
rhonasheridan:
A friend was nurturing a bed of lovely roses with daughters wedding in mind. The night before - they ate the lot! However - I loved the poem.
Posted 06/29/2016 02:51 AM
transitions:
A delight...and true, too :)
Posted 06/27/2016 06:00 PM
nancilee:
Ruth. Love your poem. I've given up completely on a garden. I only have in the yard natural plants that deer don't like (or, at least, they don't love). If they want to nibble on anything in the yard, I'm delighted to share, pleased they would choose my succulents over the neighbor's.
Posted 06/27/2016 04:17 PM
Larry Schug:
Ain't that the truth! An eight foot tall fence does the trick around the vegetable garden but who wants that around every flower. You must have a delightful salad bar-ah, er garden. You certainly wrote a delightful poem.
Posted 06/27/2016 12:46 PM
ElizabethP:
Wonderful poem. As a fellow gardener, I fully empathize...
Posted 06/27/2016 09:58 AM
cork:
They even get by the thorns to eat the wild roses.
Posted 06/27/2016 09:10 AM
Michael:
Wonderful detail in this poem. Looking forward to meeting you in October.
Posted 06/27/2016 08:02 AM
blueskies:
The word is...A pure delight from beginning to end. Thanks, Ruth.
Posted 06/27/2016 07:05 AM
jeeger:
And often times the fence is just for folly, a little exercise before the meal!
Posted 06/27/2016 05:59 AM
Laurenepersons:
Oh how delightfully true and well-written. Months of planting, nurturing, babying can be undone at the McGarden, deers' answer to fast food!
Posted 06/27/2016 05:19 AM