The night is dewy as a maiden's mouth, 
The skies are bright as are a maiden's eyes, 
Soft as a maiden's breath, the wind that flies 
Up from the perfumed bosom of the South. 

Like sentinels, the pines stand in the park; 
And hither hastening like rakes that roam, 
With lamps to light their wayward footsteps home, 
The fire-flies come stagg'ring down the dark.
This poem is in the public domain.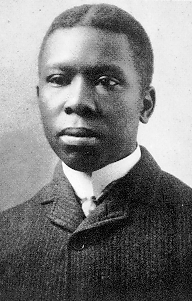 Paul Laurence Dunbar (1872-1906) was from Ohio. He wrote his first poem at the age of six, was editor of his high school newspaper, and published his first book at twenty. His writing attracted attention from the very beginning, and Paul became well-known in both America and around the world. Like James Whitcomb Riley, who was a fan of his young contemporary's work, Paul wrote many of his poems in dialect. Besides a dozen books of poetry, Paul wrote four short story collections, five novels, a play, and the first  Broadway musical ever written and performed by African-Americans. A tremendously successful poet whose work was being published in all the major literary publications of his day, Paul's life was cut tragically short by tuberculosis.
Dorcas:
What an achievement. Thank you.
Posted 07/04/2016 10:09 AM
Jancan:
Dunbar was--is--great! Thanks for this one. Janice
Posted 06/30/2016 03:53 PM
transitions:
Love the last line. His poetry lives on...
Posted 06/30/2016 11:10 AM
ElizabethP:
Wonderful. Paul Dunbar is always so good. Glad you share some of his work.
Posted 06/30/2016 10:26 AM
blueskies:
Indeed---pure poetry! Thanks,Jayne. PS> OK to disagree, Larry. The beauty-for me-is that poetry 'speaks' to each of us singularly & collectively that which we need to see & hear & feel, etc.
Posted 06/30/2016 09:29 AM
JanetruthMartin:
gorgeous!
Posted 06/30/2016 07:20 AM
Newf:
Beautiful poem, but he sounds like a bit of a rake himself.
Posted 06/30/2016 07:04 AM