At the farmer's market, we're charmed
by the floppy hats, and welly boots,
the bouquets of flowers and baskets of fruit,

and although gardeners believe
in the need for blades
and black seasons
in prunings
and uprootings
in soil made rich by the rotting
of cabbages and kings,

they smile as they offer samples
of peaches, slices of tomatoes,
cuttings of lavender, the bounty
of this seductive green world,
that tongues forth from our graves.

From Exit, Pursued by a Bear (Press 53, 2016).
Used here with the author's permission.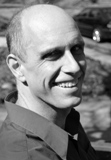 Joseph Mills is a faculty member at the University of North Carolina School of the Arts, where he holds the Susan Burress Wall Distinguished Professorship in the Humanities. Joe's published work includes six volumes of poetry, and four nonfiction books. He also writes a column called "String Figures" for ChangeSeven Magazine in which he details his thoughts about trying to learn piano in middle-age. Learn more about Joe at www.josephrobertmills.com.
annie_jenkin:
Great imagery, one can almost taste the produce!!
Posted 07/16/2016 11:15 AM
Lori Levy:
Love the language in this poem.
Posted 07/16/2016 10:23 AM
paradea:
Joe Mills never disappoints! How well-done can you get!?! Love this poem.
Posted 07/16/2016 09:58 AM
ronaccount:
I like this wonderfully crafted poem. It puts me in my place but I love being there
Posted 07/16/2016 09:57 AM
KevinArnold:
Great fun.
Posted 07/16/2016 08:57 AM
Sarah Russell:
What "blueskies" said. Wonderful insight. And the name of your latest poetry book is so inviting, I'm headed for that big, big online place to buy it. Can't wait to read more!
Posted 07/16/2016 08:10 AM
jeeger:
I love this poem - the style, the choice of words is exceptional, to me especially-- the rotting of cabbages and kings. Lines like that pull me in. Really, really nice!
Posted 07/16/2016 07:29 AM
blueskies:
The same earth that nourishes our bodies cradles our mortal remains > 'that tongues forth from our graves...' Stunning reflection upon many levels. Thanks,Joseph.
Posted 07/16/2016 06:52 AM
Newf:
Maybe Shakespeare would be proud but I started feeling good on the first stanza the last line felt like a kick in the teeth even tho' it's true.
Posted 07/16/2016 06:15 AM