Yesterday watching my son
teach my 14-year old grandson
to hitch a trailer to his truck,
my job to witness,
I recall the time
when I was teacher, my son eager learner.
 
The trailer is needed to close down the home
of his recently deceased other grandfather.
At the memorial last weekend,
grandson, along with his two sisters,
sang "Sunrise, Sunset."
 
I watch the boy
lift, set, tighten the hitch,
attach the safety chains,
check brake, turn and tail lights.
I smile as my inner voice
sings "Sunrise, Sunset."
© by Mike Goldenberg.
Used with the author's permission.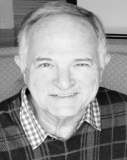 Mike Goldenberg has had several vocations and avocations, including musician, pharmacist, hospital administrator, combat army officer, psychotherapist, and psychoanalyst. On top of all that, he is an avid golfer, enjoys watercolor painting and sculpting, and, of course, writes. Mike lives in southern California with his wife, Linda, in a multi-generational family home. He is the author of one book, Psychotherapy for the Non-Medical Psychotherapist
Dorcas:
Nice take on lyrics.
Posted 07/21/2016 07:44 PM
ccmatthe:
And the cycle continues... how marvelous to see the son passing on knowledge to the grandson.
Posted 07/20/2016 07:13 PM
Lori Levy:
Simple, but powerful.
Posted 07/20/2016 09:42 AM
Jean Colonomos-1:
Jean Colonomos Bravo for this lovely generational poem about passing things on.
Posted 07/20/2016 08:20 AM
ronaccount:
What a great, simple, undramatic sample of life.
Posted 07/20/2016 08:17 AM
paradea:
Yes! Grandchildren make it all right! Lovely poem.
Posted 07/20/2016 07:49 AM
blueskies:
Insight into tenderness of a family. Many thanks,Mike.
Posted 07/20/2016 05:50 AM
Newf:
Lovely is the right word!! So expressive.
Posted 07/20/2016 05:44 AM
rhonasheridan:
Lovely
Posted 07/20/2016 04:40 AM