There's far too much to do,
and unrealistic expectations
breed a weekly contempt.
This is the ritual, the chiding,
the self-knowledge that proves
awareness doesn't always act.
In fact, the browbeating lessens
over time, if only because
life demands attention, and
not according to best intents.
Breathe deep and manage
to smile at that stack ignored.
Resolve yourself to accept
your inability to achieve it all.
We are not machines, not yet,
and thus experience affords
the illusion of freedom
from plans and agendas,
a temporary respite,
apology as alibi, reassuring
that the work unfinished
will somehow someday
still manage to get done.
© by Gary Glauber.
Used with the author's permission.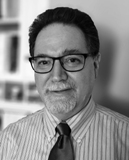 Gary Glauber is a poet, fiction writer, teacher, and former music journalist whose work has received multiple Pushcart Prize and Best of the Net nominations. He is the author of two books. Gary champions the underdog and enjoys composing while listening to obscure power pop music.
wordlover:
Thank you for this poem. I needed it!
Posted 07/29/2016 08:43 PM
Dorcas:
What needs to get done, does.
Posted 07/28/2016 11:46 AM
Jo:
Very appreciative of this poem. Am findin it applies only too well. Thanks, Gary.
Posted 07/28/2016 11:29 AM
rhonasheridan:
What good thinking .
Posted 07/28/2016 11:26 AM
Lori Levy:
Trying to learn how to "smile at that stack ignored"!
Posted 07/28/2016 09:42 AM
KevinArnold:
Fun!
Posted 07/28/2016 08:59 AM
cork:
I have at least three piles calling to me. I will get to them eventually.
Posted 07/28/2016 07:52 AM
blueskies:
...We are not machines, not yet! Lov'd this poem. Thanks, Gary.
Posted 07/28/2016 07:49 AM
Newf:
Could apply to all aspects of life. Many thanks Gary, today I need that reassurance. Well written, I like the flow.
Posted 07/28/2016 04:01 AM