To be astonished is one of the surest ways of not growing old too quickly.
—Colette
Patio gardener,
I know so little about nature.
Water and snip,
eliminate stragglers.
If dumb luck prevails
new shoots push up
through soil jammed
into little pots.

Odd, the excitement
watching tiny sprouts
redefine old.

This is where it gets
complicated.
Nota bene: I may
feel astonished
but choose to tip my hat
to the here and now,
sort the garbage,
turn off the kitchen lights,
move into sunlight,
read directions
on the plant food,
place a teaspoon of
magical blue powder
in that battered watering can,
celebrate renewal.

© by Anita S. Pulier.
Used with the author's permission.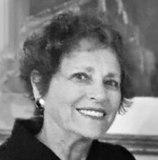 Anita S. Pulier, after many years of practicing law in New York and New Jersey, served as a U. S. representative for the Women's International League for Peace and Freedom at the United Nations. Her chapbooks, Perfect Diet and The Lovely Mundane, were published by Finishing Line Press in 2011 and 2013, respectively, and her poems have appeared in numerous online and print journals. Anita and her husband divide their time between New York and Los Angeles. Learn more about her at http://psymeet.com/anitaspulier/.
tausner:
I love seeing the world through your eyes.
Posted 08/04/2016 08:19 PM
jtmilford:
Your celebration of patio gardening was perfect. Thank you for reminding me about astonishment.
Posted 08/03/2016 07:55 PM
Lori Levy:
Especially like the last 3 lines.
Posted 08/03/2016 07:17 PM
Jean Colonomos-1:
Jean Colonomos What comes across to me in this poem is you tend to many things in life, not only plants.
Posted 08/03/2016 11:18 AM
Michael:
Love this poem Anita! Sounds very much like my routine--I'm constantly turning out the lights, putting this or that in its right place as if such things really mattered! And like you, I'm astonished nearly every day. Thank you.
Posted 08/03/2016 10:18 AM
KevinArnold:
fun . . . thanks.
Posted 08/03/2016 09:09 AM
blueskies:
A celebration of the patio gardener,for sure. Thanks, Anita.
Posted 08/03/2016 05:29 AM