Far from the city
way out in the country
a hot afternoon in high summer

as we drive down a bumpy road
bouncing one mail box past
another saluting

each farmer by name.
We marvel at the giant corn
until we come to a mail box

bent over an old table
piled high with tomatoes,
green beans and melons.

A tin can slumps in front
of this harvest with a note
gripped by a clothes pin

saying, "Take what you will
and leave what you will.
God blessed us this year."

© by Donal Mahoney.
Used with the author's permission.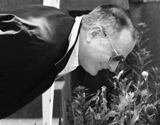 Donal Mahoney lives in St. Louis, Missouri. A native of Chicago, he spent the early '70s actively submitting poems to print journals and enjoyed some success. He then took a 35-year hiatus from poetry to work as an editor of prose at such lofty establishments as the Chicago Sun-Times, Loyola University Press, and Washington University in St. Louis. Upon retirement, Donal took to his recliner, and was perfectly happy reading and listening to Gregorian chant all day. After three years, however, his wife bought Donal a computer and showed him where the boxes of still-unpublished poems had been stored in the basement for many years. Thus Donal began actively submitting again in June 2008. Some of his work since then can be found here; more can be seen at http://booksonblog12.blogspot.com/.
Jo:
A day late and after reading the poem and what you wrote, you affirm migration's benefits. In process here... Thanks Donal.
Posted 08/11/2016 12:11 PM
rhonasheridan:
Delightful.
Posted 08/09/2016 01:53 AM
Lori Levy:
Great poem!
Posted 08/08/2016 10:00 PM
Michael:
This poem puts me there, Donal. Thank you--quite vivid.
Posted 08/08/2016 10:42 AM
Donal Mahoney:
I thank the readers for their comments on my poem. As you might imagine, this actually happened as I wrote it and when I re-read it, it helps me to understand the difference between living in Chicago, where I spent half my life, and Missouri, where I am closing in on another half. It takes a lot of time for an urban rascal to get used to the kindness of country folk. But the lessons learned are certainly worth the migration--as are biscuits and gravy and deep fried catfish. I may miss Chicago at times but I would never leave Missouri.
Posted 08/08/2016 09:36 AM
blueskies:
A shining tribute to all that is good-ness in folks! Thanks, Donal.
Posted 08/08/2016 08:46 AM
michaelanderson:
I think I know this place! Thanks for pointing us in this direction this morning.
Posted 08/08/2016 08:40 AM
vscholtz:
What an image - a refreshing trip for my Monday morning mind.
Posted 08/08/2016 08:28 AM
cork:
I love the generosity! Slainte!
Posted 08/08/2016 08:19 AM
jeeger:
Yep, that's how my grandma and grandpa used to do it. No one ever took the can. And they always made some money. Thanks for this lovely little poem!
Posted 08/08/2016 08:09 AM
Jean :D:
joie de vivre
Posted 08/08/2016 06:26 AM
Belinda Veldman:
Beautiful.
Posted 08/08/2016 05:57 AM
Newf:
Wonderful!
Posted 08/08/2016 05:02 AM