A narrow fellow in the grass
Occasionally rides;
You may have met him,--did you not,
His notice sudden is.
The grass divides as with a comb,
A spotted shaft is seen;
And then it closes at your feet
And opens further on.
He likes a boggy acre,
A floor too cool for corn.
Yet when a child, and barefoot,
I more than once at morn,
Have passed, I thought, a whip-lash
Unbraiding in the sun,--
When, stooping to secure it,
It wrinkled, and was gone.
Several of nature's people
I know, and they know me;
I feel for them a transport
Of cordiality;
But never met this fellow,
Attended or alone,
Without a tighter breathing,
And zero at the bone.
This poem is in the public domain.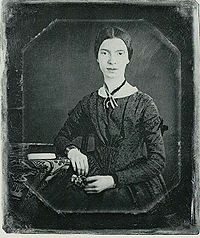 Emily Dickinson (1830 – 1886) is considered a major American poet, though she was not accorded this honor until well after her death, when her younger sister discovered and began to share the enormous body of work that Emily left behind. A recluse who almost always wore white, Emily was born to a prominent Massachusetts family and spent the bulk of her life inside her home in Amherst. Only seven of her poems were published during her lifetime, and virtually none were published as originally written until the mid 1950s. (Emily's odd punctuation, capitalization, and formatting did not meet with standard publishing  "approval" for earlier editions.)  There is a whimsical nature to many of her poems, although the subject of death was the most frequent recurring theme.
barbsteff:
Amen, sister!
Posted 08/12/2016 02:40 PM
transitions:
Agree with 'blue skies'..."zero at the bone" ~ Emily, you were amazing.
Posted 08/11/2016 10:38 PM
blueskies:
...Without a tighter breathing, And zero at the bone. Best description ever of a snake 'howdy'. Enjoyed!
Posted 08/11/2016 11:53 AM
cork:
I would have said "farther."
Posted 08/11/2016 07:45 AM
Newf:
Fun and very true.
Posted 08/11/2016 01:48 AM