Braids of peppers and garlic festoon booths
filled with sweet corn and fingerling potatoes,
perfect for roasting in vinegar and sea salt.
Into her bag, she adds onions and tomatoes,
then buys honey from cranberry blossoms
that bloomed in the bog near her home.
She buys a box of raspberries, an eggplant,
and music garlic, the variety the Garlic Man
says is most versatile. Then the Apple Lady
hands her a folded five-dollar bill and says,
"You dropped this last fall." She hands it back
to pay for a peck of Duchess apples, the best
for sauce and pie, breathing in their sweet
scent blended with cilantro, dill, basil, and
flowers ? oh, the flowers: zinnias, sunflowers,
gladiolas, lilies; and dahlias big as dinner plates,
so reasonably priced that every week she walks
cheerfully to the car, her market bag heavy,
a huge bouquet cradled in her arms.
This poem first appeared on the Wisconsin Fellowship of Poets' 65th Anniversary Poetry Quilt.
Used here with the author's permission.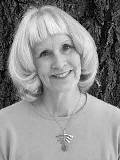 Joan Wiese Johannes is retired from a rewarding and challenging career as an English teacher. The author of several poetry collections, she also composes music for Native American-style flute and includes it with her poetry readings. Joan believes that Thornton Wilder was right when he wrote that only poets and saints truly appreciate life while they are living it. Hardly a saint, Joan appreciates the life she shares with her poet/artist husband, Jeffrey, in Port Edwards, Wisconsin.
TheSilverOne:
Enjoyed this poem! Met you at Green Lake! I also play the flute.~~Doris Bezio
Posted 08/15/2016 05:25 PM
Jancan:
Lovely poem--vividly descriptive! Janice
Posted 08/15/2016 04:54 PM
transitions:
I can see, smell, almost taste it...the 'farmer's market', an American 'institution'! This took me there, beautifully... thanks...Judy W.
Posted 08/15/2016 03:20 PM
barbsteff:
Yay, Joan! Barb Germiat
Posted 08/15/2016 10:52 AM
Jo:
Makes me grateful just to read this poem. And hungry.
Posted 08/15/2016 10:51 AM
Lori Levy:
A very sensually appealing poem.
Posted 08/15/2016 10:23 AM
Marilyn L Taylor:
A delightful poem, especially readable at lunchtime. Where's my salad? And my floral centerpiece?
Posted 08/15/2016 08:59 AM
cork:
Love that $5.00 bill!
Posted 08/15/2016 08:09 AM
Larry Schug:
This poem makes me want to head straight for the nearest farmer's market, though much of it would be free in my garden, if not the same varieties. You've done a magnificent job of capturing an experience with color and texture.
Posted 08/15/2016 08:03 AM
Katrina:
I love the separation of 'sweet corn'. It contains delight.
Posted 08/15/2016 07:08 AM
mimi:
you've captured it so so tastefully! thanks, Sharon Auberle
Posted 08/15/2016 06:51 AM
blueskies:
Yes. Visuals & aromas! What a great wake-up-to-poem. Thank you Joan.
Posted 08/15/2016 06:39 AM
Laurenepersons:
I reaped your simple but eloquent words. It reminded me of "the corn lady" we visited many summers to get our sweet corn. I don't think I have had as sweet corn or memories since!
Posted 08/15/2016 06:07 AM
Newf:
Yes it is lovely. Enjoyed with an early morning coffee. Will reread.
Posted 08/15/2016 05:11 AM
rhonasheridan:
A lovely poem. I could see every line of it. Just perfect. Thank you.
Posted 08/15/2016 03:13 AM