The afternoon is quiet despite a fullness of birdsong. I am tempted
to shush them with a slow finger to the lips and a whisper.

Before long, I hear an airplane and the birds hush,
as if to notice God, and I remember how it feels to be amazed.

There is one thing new under the sun this afternoon and he is learning
how to run in the grass of this green, green park between chirps

and caws and the buzz of the far away plane. He looks just like his mother
as he lifts a pinecone, says its name, brings it to me. He smiles against my kiss

on his cheek the way his mother always does and I give thanks for the blue
of their blue, blue eyes. I told his mother once that I could not be her friend.

That was a while ago, now, on a bench, in a different park (the one by the river),
on a different afternoon. Now, this afternoon, we sit atop the green dew

and share a blanket, familiarity, the watching of two blue crows in a curse-filled
aerial battle, and this one new thing under today's yellow, yellow sun.
 

This poem first appeared in Poppy Road Review.
Used here with the author's permission.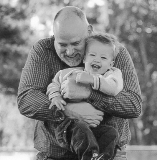 Danny Earl Simmons is an Oregonian and a proud graduate of Corvallis High School. He is a friend of the Linn-Benton Community College Poetry Club and currently serves on its Poetry Advisory Committee. His poems have appeared in a variety of journals, including Off the Coast, where he now assists as a member of the editorial staff. Learn more about Danny at www.dannyearlsimmons.blogspot.com.
Ryan Stone:
Beautiful, Dan. There's so much here and you've expressed it with grace and style. Lovely.
Posted 08/29/2016 07:08 PM
rhonasheridan:
Learning how to run on grass! Such memories.
Posted 08/29/2016 01:15 PM
Lori Levy:
Beautifully expressed.
Posted 08/29/2016 12:23 PM
blueskies:
Delightful poem,especially so, the colors...Thanks,Danny
Posted 08/29/2016 09:15 AM
KevinArnold:
Fun!
Posted 08/29/2016 08:30 AM
rnordstrom:
Very nice, Dan.
Posted 08/29/2016 08:29 AM
Marilyn L Taylor:
Heartwarming. It's great that the sentimentality that's often rampant in poems about babies is kept to a bare minimum here. Very engaging, understated poem.
Posted 08/29/2016 08:19 AM
Sarah Russell:
One of my favorite poets. I hadn't read this one, Dan. You captured a beautiful moment and left a smile here. Thanks.
Posted 08/29/2016 07:09 AM
Katrina:
The understatement from an undersun father contains broad understanding, lately acquired in the beauty of love.
Posted 08/29/2016 04:41 AM