Addie Mae conducts orchestras
only she can hear. At six weeks
sitting in her bouncy chair,
she is quite the munchkin maestro--
arms flailing crescendos and
sudden diminuendos
with a flair rarely seen in
a prodigy so prodigiously
small. Fingers twitch a tremolo
while toes invite a vibrato
from the dangling things that swing
from the cushioned crescent toy-bar
arched like a ring over her,
jangling time to every move
she makes. She quakes and quivers
with an ecstasy only she
can feel, and with a sudden squeal
brings her symphony crashing
to a colicky cacophony
her audience hears--and fears--
all too well.
© by Mike Orlock.
Used with the author's permission.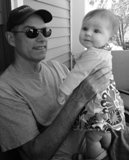 Mike Orlock is a retired high school English and American History teacher who splits time between the Chicago suburbs and a vacation home in Sturgeon Bay, Wisconsin. He has been married for 40 years to his high school sweetheart and inspiration, Liz, and greatly enjoys being grandfather to four beautiful little girls. Mike's short stories, poems, and reviews have appeared in a variety of publications and he was a Jade Ring winner in a contest sponsored by the Wisconsin Writers Association.
rhonasheridan:
Perfect!
Posted 08/28/2016 02:35 AM
Lori Levy:
Captures it exactly!
Posted 08/25/2016 11:08 AM
Michael:
Love the rich use of alliteration in this poem, Mike, as well as its delightful message--the awesome potential of children--hopefully, we big people will be smart enough to get out of the way! Thank you.
Posted 08/25/2016 10:23 AM
Glen Sorestad:
I love the wonderful sounds in this poem, the clash and clatter and swish and kiss of syllable against syllable. beautifully done, Mike.
Posted 08/25/2016 09:56 AM
loisflmom:
As an orchestra lover, I can just SEE her conducting her own symphony. Maybe Mahler!
Posted 08/25/2016 09:52 AM
Caro70:
Wonderful movement and imagery, Mike. Here's to years of inspiration from this child!
Posted 08/25/2016 09:43 AM
hanne gault:
vintage Mike. hanne gault
Posted 08/25/2016 09:29 AM
blueskies:
...she is quite the munchkin maestro. What a JOY to begin this day with a delightful & shining tribute to Addie Mae! Thanks, Mike.
Posted 08/25/2016 06:40 AM
Katrina:
A 'colicky cacophony' smells effective.
Posted 08/25/2016 03:21 AM