A hole in a wall;
a semi-circular beginning.
He promised me
balmy summer nights,
the sound of laughter
and the smell of pizza.

It gapes, empty and bare;
concrete proof
of DIY intentions.

Still, I like it that way.
Through the arch I can see green lawn
and a lemon tree — and today,
a spider has left a perfect web
rays reaching outwards
like the sun.
© by Belinda Veldman.
Used with the author's permission.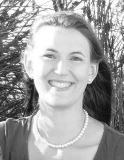 Belinda Veldman stays busy being a wife and mother in Perth, Western Australia. A former English teacher, she admits she can't seem to stay away from books, even though she doesn?t really have time for them at present. Subscribing to YDP (and, occasionally, writing) is Belinda's attempt to keep a literary link in her life.
Jancan:
Only a true optimist would describe a spider web in such an appealing manner! I love this. Janice
Posted 09/07/2016 12:27 PM
Lori Levy:
Great!
Posted 09/05/2016 09:35 AM
Caro70:
A hole in a wall never looked so lovely! Well done, Belinda!
Posted 09/05/2016 08:33 AM
Peg:
Love this poem!
Posted 09/05/2016 08:27 AM