In the silent murky air
of a sleepless night
I surrender to failure,
curl knobby toes
on cool kitchen tile,
bite into a perfect
end of summer peach,
celebrate the inevitable.
© by Anita S. Pulier.
Used with the author's permission.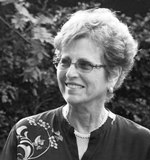 Anita S. Pulier, after many years of practicing law in New York and New Jersey, served as a U. S. representative for the Women's International League for Peace and Freedom at the United Nations. Her chapbooks, Perfect Diet and The Lovely Mundane, were published by Finishing Line Press in 2011 and 2013, respectively, and her poems have appeared in numerous online and print journals. Anita and her husband divide their time between New York and Los Angeles. Learn more about her at http://psymeet.com/anitaspulier/.
barbsteff:
Wasn't expectong those last three lines. It soumded much more sinister. Great set-up!
Posted 09/08/2016 08:26 PM
jtmilford:
A beautiful poem about letting go with peaches.
Posted 09/08/2016 03:36 PM
Charlotte Ciraulo:
Gorgeous!
Posted 09/08/2016 02:04 PM
blueskies:
Sez it ALL!...celebrate the inevitable. Delicious poem. Thanks, Anita.
Posted 09/08/2016 02:01 PM
Lori Levy:
Love this poem. I can see it and feel it.
Posted 09/08/2016 10:52 AM
Caro70:
Lovely!
Posted 09/08/2016 09:29 AM
Walcottjm:
"celebrate the inevitable", my mantra for today. Thank you for a perfect peach of a poem.
Posted 09/08/2016 07:22 AM
Newf:
Perfect poem for a restless night.thx
Posted 09/08/2016 03:45 AM
Katrina:
I like the title.
Posted 09/08/2016 03:22 AM