This is the hour I love--
the day unfolding into itself
from darkness into light,
the sea and sky yet snug
under a gray duvet
while the slow rise of the sun
uncouples the lovers
from that silky crepe de chine.
Opening to the softness of pastel,
the sea puts on a wrap of palest
green while the sky lounges
in soft blue charmeuse.
I sit in the wonder of beginning,
hear breath upon the water,
smell the slight salty tang.
This is how it must have been,
how it will always be, creation
happening over and over.
Whether the lush garden of paradise
or a sea coast in the tropics,
everything in flux except for the one thing
that stays the same—when Phoebus
drives her fiery chariot across
the sky, or the God of Genesis
says," Let there be light"
the world starts anew,
the black of night rent apart
each day
by the blaze.
From Joy in the Morning (Bellowing Ark Press, 2008).
This poem first appeared in Byline Magazine, where it won 1st place in the 2006 New Talent competition.
Used here with the author's permission.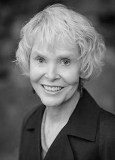 Mary Jo Balistreri is the author of two poetry books, Joy in the Morning and Gathering the Harvest, plus a chapbook, Best Brothers, published by Tigers' Eye Press. Mary Jo feels that losing oneself in the process of writing is healing, and that sharing poems, learning about the experiences of others, and the sensibilities and events that move them widens our circle of community. Learn more about her at http://maryjobalistreripoet.com/.
Maryann Hurtt:
Yes, Jo...such a fine way to start the day (once I crawl out of of a pile quilts) You captured it so well. Glad we are going to read together in November.
Posted 10/13/2016 09:10 AM
TheSilverOne:
Wonderful start to the day!~~Doris Bezio
Posted 10/13/2016 08:19 AM
Annefischer:
What a beautiful picture you paint! Great reminder of the miracle of each day and what an extraordinary port you are
Posted 10/12/2016 07:49 PM
jtmilford:
Your description of early morning is absolutely beautiful. This is a poem to read over and over again as is all the poems in Joy in the Morning. Thank you Jo
Posted 10/12/2016 07:27 PM
transitions:
A timeless poem like this should be read again and again. I love it, Jo, it's inspired and takes us on a journey many of us never see ~thank you.
Posted 10/12/2016 11:44 AM
barbsteff:
Not being a morning person I rarely see sunrises, but cherish sunsets. Delightful poem! Barb Germiat
Posted 10/12/2016 11:16 AM
paula:
Beautiful images!
Posted 10/12/2016 10:27 AM
becky evans:
Gorgeous poem! Great to read it again today. Thanks!
Posted 10/12/2016 10:00 AM
JanetruthMartin:
Breathtaking!
Posted 10/12/2016 09:28 AM
marilynfleming:
This is a wonderful poem that I can read and read again and enjoy a different aspect of it each time. You are the real thing and a great poet.
Posted 10/12/2016 08:54 AM
Donal Mahoney:
One of many fine poems by a truly wonderful poet, I think to myself as I read this one for the first time.
Posted 10/12/2016 08:25 AM
Michael:
Jo Although I've read this masterpiece before, it is ever-new to me like the Genesis it celebrates.
Posted 10/12/2016 08:06 AM
Janet Leahy:
You have captured the glory of sunrise in this exquisite poem, thanks Jo.
Posted 10/12/2016 07:40 AM
plgoodman:
You are making me cry girlfriend, and making me wish to look with fresh eyes at everything. Thanks for your opening up of the world!
Posted 10/12/2016 07:10 AM
rnordstrom:
Lovely images that one can slide right into. Very nice.
Posted 10/12/2016 07:09 AM
Gary Busha:
Yes, a fine celebration of life.
Posted 10/12/2016 05:52 AM
mimi:
lovely words, Jo... Sharon Auberle
Posted 10/12/2016 05:51 AM
blueskies:
My absolute favorite part of the day`sunrise! O, Yes. You 'nailed it' beautifully! Thank you, Mary Jane.
Posted 10/12/2016 05:36 AM
Newf:
Lovely it is! Truly a poem to read at day's beginning.
Posted 10/12/2016 05:08 AM
rhonasheridan:
Lovely
Posted 10/12/2016 04:27 AM
Laurenepersons:
I savored these words, wrapped in my duvet, and thought, "How perfect."
Posted 10/12/2016 03:35 AM