Scraps torn
from a grocery bag
and twigs the trees tossed
down around the outhouse
kick flames out the stovetop.
I drop in
a brick of wood --
jump back from sparks that snap at my eyes --
and clank the iron plates
into place. 
The pines peacefully 
sniff the smoke of their dead
rising from our chimney.
The fire slowly nudges
the mountain's cold morning 
through gaps in the walls.
I slip back to the sleeping bag
and you. 

From Wedging Oaks Into Acorns (Uzzano Press).
Used here with the author's permission.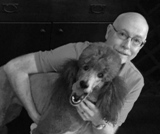 David Henson is the author of two chapbooks -- Wedging Oaks Into Acorns (Uzzano Press) and This Artificial Heart and Other Poems (The Grassfield Press) -- and his work has appeared in various online and print journals. Besides writing, his other main hobby is playing classical and boogie woogie piano. David, who lived in Brussels, Belgium for six years in the late '80s/early '90s, now lives in Peoria, Illinois with his wife and their dog, who loves to take them for walks in the woods.
Jancan:
Very enjoyable piece--love the lines personifying pines! Janice
Posted 10/17/2016 04:13 PM
Jo:
I can smell those pines, and the warmth they give off as well. I'd snuggle back to the sleeping bag as well. Thank you, David.
Posted 10/17/2016 04:12 PM
Janet Leahy:
Can feel the cold and the warmth in this poem. Love the peaceful pines. Thanks David
Posted 10/17/2016 09:29 AM
Newf:
Wonderful, thank you for the correction. I enjoy reading this, even tho' I'm not a fan of roughing it.
Posted 10/17/2016 08:51 AM
Michael:
Let's go camping! Love this. Thank you.
Posted 10/17/2016 07:42 AM
blueskies:
Toasty & delightful! Thanks, David.
Posted 10/17/2016 07:16 AM
Linda Anger:
This is lovely in so many ways. I particularly love "..and twigs the trees tossed down..."
Posted 10/17/2016 06:40 AM