A Robin Redbreast in a cage,
Puts all Heaven in a rage.

A skylark wounded on the wing
Doth make a cherub cease to sing.

He who shall hurt the little wren
Shall never be beloved by men.
This poem is in the public domain.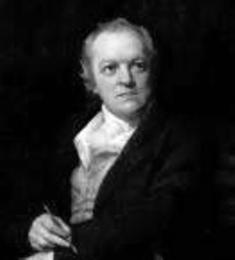 William Blake (1757 - 1827) was an English poet and painter. Best known today for his poem, "The Tyger," Blake enjoyed virtually no acclaim as a poet during his lifetime. Today, however, he is considered an immense talent in both literary and artistic circles. Trained as an engraver, Blake produced all but one of his poetry books himself. His wife—whom Blake himself taught to read, write, and draw—was a valued partner and critic. Much of Blake's work focused on religious themes, with a colorful swirl of fantasy tossed in.
transitions:
And all true...
Posted 10/24/2016 05:40 PM
barbsteff:
Clear and concise. Thanks.
Posted 10/19/2016 01:00 PM
paradea:
This is wonderful!
Posted 10/19/2016 09:23 AM
KevinArnold:
Blake is indeed the master of brevity. Thanks for this!
Posted 10/19/2016 09:07 AM
paula:
Some days are like that. Hope today will be better. I love Blake.
Posted 10/19/2016 08:15 AM
Larry Schug:
Oh, if only this was true these days. If we take care of the robin and the wren we'll be taking care of each other, our children and our world. Again, poetry rings true.
Posted 10/19/2016 07:48 AM
blueskies:
Another shining treasure from a poet's heart & soul!
Posted 10/19/2016 07:39 AM
rhonasheridan:
I remember this from years ago! However could I have forgotten it. It's marvellous. Just lovely .
Posted 10/19/2016 04:22 AM
Newf:
I have read it before, but love seeing it here this morning. Such beauty and wisdom in so short a poem.
Posted 10/19/2016 02:38 AM