You dressed like a clown and surprised us all,
wobbling in your size-twelve shoes, across front lawns,
toward Seventh Street and back.
Twice you snorted jokes through your Rudolph nose
(How many heathen does it take to screw in a light bulb? . . . )
and set our stomachs twitching.
That night I liked you lots:
your cheeks puffing with popcorn balls,
your lips smacking on apples,
your fingers stiff from doorbell-poking.
Ten minutes till curfew, you collected our Woolco sacks
and multiplied them like fishes.

From Weeknights At The Cathedral (WordTech 2006).
Used with the author's permission.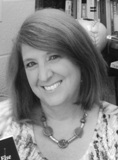 Marjorie Maddox is Professor of English and Creative Writing at Lock Haven University. At the age of 8, Marjorie published her first poem in Campfire Girls Magazine. Eleven books and six chapbooks later, she still loves writing poetry, fiction, creative nonfiction, and children's literature. Her forthcoming works include Wives' Tales (Seven Kitchens Press), her first short story collection, What She Was Saying (Fomite Press), and a middle grade biography, A Man Named Branch, the True Story of Baseball's Great Experiment (Zing!) about her great granduncle Branch Rickey, general manager of the Brooklyn Dodgers, who helped break the color barrier by signing Jackie Robinson. Learn more about Marjorie at www.marjoriemaddox.com.
DavidJB:
This is not blasphemy, but quite the opposite. It's a beautiful modern musing on the concept of god becoming one of us, a clown, a mere human. Some people take things far too literally. Where is the beauty in poetry and literature if you do not use your imagination and see the meaning in the symbols and metaphors? The parables of Jesus are full of them.
Posted 10/31/2016 07:25 PM
barbsteff:
Remmber, we are made in the image of God, and so it's not inappropriate to picture God trick 'r treating, in my opinion. God is not too serious to be pictured doing such a thing. Only clunker these days is the image of God as a clown, since there are bad guys scaring people by dressing as scary closn.
Posted 10/30/2016 08:11 PM
Newf:
Thank you Jayne for leaving my comments. Obviously, I'm a minority. I find the idea of God trick or treating very offensive, whatever the intentions of the author. If God pushes doorbells and eats popcorn we are all in trouble. Signing out, I've been turned off by this one. Not sure why it has bothered me so much.
Posted 10/30/2016 07:37 PM
transitions:
So then Joni, it is God in too-big shoes? I think you're right and like it even more ~
Posted 10/30/2016 06:36 PM
jonidee61:
What a lovely, imaginative take on God! The line "That night I liked you lots" struck me as very innocent and sweet, as from a child. My take on this is that the author is showing us a fun side of God rather than making fun of Him.
Posted 10/30/2016 05:21 PM
Newf:
Then why the title? And the reference to multiplying fishes?
Posted 10/30/2016 02:57 PM
transitions:
On second reading, maybe not a child but whomever, cleverly written and I liked it!
Posted 10/30/2016 12:40 PM
transitions:
Picturing a child in too-big shoes, teetering around, trick or treating. To me, just a sweet poem..I enjoyed it.
Posted 10/30/2016 12:38 PM
KevinArnold:
Newf, I'm in your camp on God but this poem seems intentionally ambiguous as to who's being thanked. I'm guessing the poet's beloved wears size 12 shoes and The thanks are ambiguously to him.
Posted 10/30/2016 10:38 AM
Newf:
I am aware that criticism is not welcome. God must have a sense of humour, but this is blasphemy. God is not mocked!
Posted 10/30/2016 08:58 AM
mjorlock:
Builds to a terrific closing, Well done.
Posted 10/30/2016 07:34 AM
blueskies:
Outstanding! Lov'd it. Thanks Majorie.
Posted 10/30/2016 07:17 AM