Though she held on for weeks,
her vivid patchwork quilt
still slid to the ground,
and now she stands naked,
slender and tall,
learning to love
being exposed.
She gracefully stretches
her arms
and with fluttering fingers
beckons the breeze
to touch her bare skin,
as she basks
in the fullness of sunshine,
her branches and trunk
soaking it in,
while she waits
to be covered in white.


© by Joan Kantor.
Used here with the author's permission.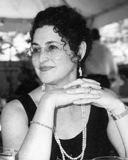 Joan Kantor is a poet, educator, and workshop leader whose award-winning work is primarily focused on her passions for art and nature. Joan is a member of iaPoetry, an international poetry therapy organization, she has been a judge and mentor for The Sunken Garden Poetry Festival's Fresh Voices program work, and she performs in Stringing Words Together, a performance experience that interweaves visual art, music, and poetry. Joan is the author of several books, including her most recent, Too Close for Comfort; Shadow Sounds (2010), a finalist in The 2011 Foreword Reviews Book of The Year Awards; and Fading Into Focus (2015), which won first place for poetry in the 23rd Annual Writer's Digest Self-Published Book Awards. Learn more about Joan at joankantorpoetry.com.
transitions:
Lovely...
Posted 11/07/2016 06:59 PM
jtmilford:
A beautiful anthropomorphism that can be understood both ways. Thanks
Posted 11/07/2016 06:45 PM
Michael:
Dear Joan, This is truly unique, so vivid, so enchanting. Thank you.
Posted 11/07/2016 08:45 AM
Jancan:
Absolutely beautiful! Janice
Posted 11/07/2016 08:32 AM
Larry Schug:
A beautiful painting created with words.
Posted 11/07/2016 07:28 AM
plgoodman:
Lovely Joan. When anthropomorphism is used this way it is delightful. Thank you for this treat.
Posted 11/07/2016 06:53 AM
blueskies:
Stunning tribute so honoring Mother Earth. Thanks,Joan.
Posted 11/07/2016 06:46 AM
Jean :D:
What a positive look at all the bare trees and now, even in their bareness, see them as still another lovely sign of the seasons, great!
Posted 11/07/2016 06:38 AM
fishandchips:
Great poem. It made me look ant an old oak tree here in Derbyshire, England in a different way today.
Posted 11/07/2016 06:33 AM
rhonasheridan:
This made me cry. I don't know why. I think it must have been pure pleasure.
Posted 11/07/2016 02:19 AM