First the bulbs from a third grade
school catalog that quietly
died in cracked coffee cups,

then, propped on toothpicks,
the avocado pit
stretching its desperate roots

into stale water before
bidding farewell to the disgruntled potato,
too busy rotting to notice,

next came the goldfish and hamsters,
showered with attention and treats
until they too keeled over.

And so we taught
our city children responsibility,
the wonder of life-giving forces,
how to cope with disappointment,

the art of pushing on.
© by Anita S. Pulier.
Used with the author's permission.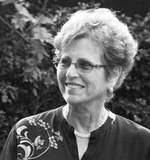 Anita S. Pulier, after many years of practicing law in New York and New Jersey, served as a U. S. representative for the Women's International League for Peace and Freedom at the United Nations. Her chapbooks, Perfect Diet and The Lovely Mundane, were published by Finishing Line Press in 2011 and 2013, respectively, and her poems have appeared in numerous online and print journals. Anita and her husband divide their time between New York and Los Angeles. Learn more about her at http://psymeet.com/anitaspulier/.
JanetruthMartin:
very nice!
Posted 11/15/2016 12:19 PM
Michael:
Dear Anita, Really like your poem especially the reference to "disgruntled potatoes." But the whole force of the piece as it works up to a nice ending is something special. Michael Escoubas
Posted 11/15/2016 11:51 AM
PoetryFan:
Beautiful poem that every parent can relate to!
Posted 11/15/2016 10:53 AM
Lori Levy:
Funny and serious at the same time. I like it!
Posted 11/15/2016 10:45 AM
Caro70:
"The art of pushing on" -- what an important lesson for today! Thank you, Anita.
Posted 11/15/2016 09:37 AM
paradea:
This is fantastic!!! Perfectly noted!!
Posted 11/15/2016 07:24 AM
plgoodman:
How wonderful to have a realistic outlook. My children were raised on a farm yet faced the same disappointments, just sometimes larger. Thanks for looking life in the eyes.
Posted 11/15/2016 07:16 AM
Jean :D:
A delightful reminder of my children trying to grow things in cups & jars. I like Anita's perspective, charming.
Posted 11/15/2016 06:49 AM
blueskies:
Amazing & delightful poem! Thanks Anita.
Posted 11/15/2016 06:42 AM
KevinArnold:
What fun!
Posted 11/15/2016 04:32 AM