The kitchen an autumn sauna,
the kettle top dancing in a festive rattle,
we core, peel, and chop,
mixing the Red Delicious with Braeburns,
the cheeky Pink Ladies with Honey Crisps,
the softies with those of Puritan substance.

There they go, more yellowing chunks,
into the pot with cinnamon, cloves, nutmeg,
pecans or almonds, plus a peach or a mango
in various batches for a renegade sweetness.

So juicy this browning mash. And aromatic,
something seductive in the penthouse of the nose.

Soon the Ball Jars will cool this steamy pulp fiction,
their lids going ping all by themselves.

In the winter ahead we will face the testing:
Who among us can swear off the sauce?

This poem first appeared in Blue Unicorn.
Used here with the author's permission.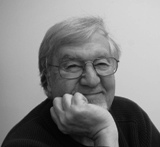 Richard Swanson is a retired English teacher who takes joy in having time to appreciate the finer things in life. He has always been fascinated by foods that acquire iconic symbolism: apple pie, hot dogs, and in his home state of Wisconsin, the deep-fried fish that occupies center stage on Friday nights in bars and restaurants. The author of two full-length poetry collections, he will soon be out with a third, Slow and Other Poems (Fireweed Press).Richard can be contacted at rwswansong@gmail.com.
Karen:
You drew me in with the first line! Well done. I love it all especially the sauna, penthouse and cheeky pink ladies! It's a brilliant poem.
Posted 11/18/2016 12:25 PM
Jo:
Richard, You captured it exactly. Grandma and me in the kitchen, the "steamy sauna, rattling lids, that final pink--no one swore off the sauce. What a terrific poem.
Posted 11/18/2016 11:52 AM
Lori Levy:
Delicious!
Posted 11/18/2016 09:43 AM
Michael:
Dear Richard, I remember with fondness the ping of canning-jar lids. I was there in your poem--thank you. Michael Escoubas
Posted 11/18/2016 09:08 AM
Jean Colonomos-1:
Jean Yum!
Posted 11/18/2016 08:48 AM
Jancan:
Hmmmm! Love it--especially the penthouse and swearing off the sauce figures of speech. Janice
Posted 11/18/2016 08:32 AM
cork:
I have heard those lids ping!
Posted 11/18/2016 08:07 AM
Larry Schug:
These words transported me to another place, the poet's kitchen, as good poetry does. Cinnamon, cloves and nutmeg, my favorite combo.
Posted 11/18/2016 07:43 AM
Gary Busha:
Fun reading and good use of language.
Posted 11/18/2016 06:16 AM
Jean :D:
I've only "canned" once in my life but never thought of the preparation as a wonderful "seduction in the penthouse of the nose"!!! Thanks to Richard I want to make sauce, so I can be rewarded again in the winter!!!
Posted 11/18/2016 06:08 AM
vscholtz:
I swear never to swear off the sauce. A terrific ode to one of the best home making skills in our heritage.
Posted 11/18/2016 05:38 AM