This morning I was musing when
This feeling came along
Reminding me I'm comfy, that
I feel like I belong.

So glad I'm not so worried
About what's next to be
That I miss the present "now"
That life has offered me

When all these special moments
Are noticed one by one
The richness of just living
Can bubble up in fun

So thank you to the giver
Who urges me to take
My time, though it is fleeting,
A mindful life to make!

I am, for the time, being
© by Phyllis Beckman.
Used with the author's permission.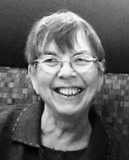 Phyllis Beckman begins her days with a candle, coffee, and Your Daily Poem. A lover of trees, she rues the loss of three ash trees from her Onalaska, Wisconsin corner lot to the emerald ash borer currently sweeping the area and is anticipating welcoming a replacement this summer.  Phyllis says the "Driftless Area" is a beautiful setting for writing poetry and she credits the Wisconsin Fellowship of Poets and Women Writers Ink for keeping her on task.
vscholtz:
Phyllis - you said a lot in a few lines. I read them in the early morning hours when I was called from sleep by the "to do" list of the holidays. Thanks to you I have a truer focus on this day.
Posted 12/10/2016 03:30 AM
rhonasheridan:
This arrived with my toast and marmalade on a really nasty day. After getting a sticky patch on my I-pad I read it with a completely different feeling. I felt great - went and had my hair done. Smiled at everyone - everyone smiled back - so a huge 'thank you'. What a lovely poem! I
Posted 12/09/2016 11:37 AM
paradea:
Simply "to be" is the best!!! Great poem,
Posted 12/09/2016 11:01 AM
Jancan:
This poem has/is everything I love--a great and uplifting message wrapped in rhyme and meter! Janice
Posted 12/09/2016 09:04 AM
Janet Leahy:
Lovely to read again and again in this busy season. Thanks Phyllis.
Posted 12/09/2016 07:27 AM
Michael:
Thank you Phyllis, for this gentle and wise reminder that "being" requires only the simplest of things!
Posted 12/09/2016 06:41 AM
blueskies:
Candle & coffee & this poem. Great way to begin 'being'!Thanks, Phyllis.
Posted 12/09/2016 06:12 AM
devitt.laur:
Such a perfect poem, Phyllis. Thank you for the great reminder. Laurel Devitt
Posted 12/09/2016 05:24 AM