White year, white year,
Muffled soft in snow,
A diamond spray whose gems are gone
Before their grace we know,
A crystal-coated spray whose hours
Melt when looked upon,
Hoarfrost stars and hoarfrost flowers,
White year!
Green year, green year,
Sweet with sun and showers,
A windblown spray whose blossoms bright
Are the seven-colored hours,
A dancing spray whose leaves are days,
A spray whose leaves delight
In azure gleam and silver haze,
Green year!
New Year, new year
From rosy leaf to gold,
A shining spray on the Tree of Time
Where myriad sprays unfold,
A spray so fair that God may see
And gather it, bloom and rime,
To deck the doors of Eternity,
New Year!

This poem is in the public domain.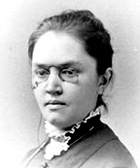 If Katharine Lee Bates' (1859 - 1929) name sounds familiar, it should be. Her poem, "America the Beautiful," was set to music and became the patriotic anthem we all know and love. Daughter of a Congregationalist minister who died when she was a month old, Katharine was an English professor at Wellesley College for many years, as well as a noted scholar, poet, and writer of books for both children and adults. Serious-looking and somewhat awkward in movement, she was nonetheless very popular with her students because of her wicked sense of humor. Many of Katharine?s photographs show her with her collie, Hamlet, who was a beloved companion.
KevinArnold:
I can't read it without the anthem echoing in my mind. In some ways, perhaps poets only write one poem, just in different versions. Thanks for finding this, Jayne.
Posted 01/02/2017 11:49 AM
blueskies:
...To deck the doors of eternity! Lovely poem. Thanks, Jayne.
Posted 01/02/2017 07:39 AM