In the silver light of winter
sail boats and cargo ships
shadow Catalina
and in the foreground
a pod of pewter dolphin slice
the water heading west.
If I were a painter I would call this day
study in silver and blue.
From The Green Season (World Parade Books, 2011).
Used here with the author's permission.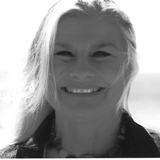 Donna Hilbert writes and teaches private workshops from her home in Long Beach, California. Her work is widely published in multiple languages and she is featured in the documentary, "Grief Becomes Me: A Love Story." Her most recent collection is The Congress of Luminous Bodies, from Aortic Books, and she has several poems in The Widow's Handbook (Kent State University Press). Learn more about Donna at www.donnahilbert.com.
Michael:
Dear Donna, Really like your use of color in this poem.
Posted 01/04/2017 06:54 PM
wendy morton:
lovely and spare.
Posted 01/04/2017 10:57 AM
Lori Levy:
Beautiful image.
Posted 01/04/2017 10:30 AM
mimi:
love this little wordpainting, my friend!
Posted 01/04/2017 09:26 AM
KevinArnold:
Yes, I agree with Larry; a wonderful affect.
Posted 01/04/2017 07:05 AM
blueskies:
Shining poem of colors & beauty. Thanks, Donna.
Posted 01/04/2017 06:56 AM
Larry Schug:
You are a painter, Donna. You've used my mind as your canvas.
Posted 01/04/2017 06:47 AM
phebe.davidson@gmail.com:
SC winter being as mild as it is, I can't complain---but nothing could possibly beat the view from this beach!
Posted 01/04/2017 06:10 AM
David Lloyd-Jones:
Lovely. I've been to Southern California -- very often when I was young. Watched the sea lions mashing their abalone. (There: I'm showing my age. Do abalone even exist any more?) Never saw the pods of dolphins, though. Anyway, good morning, Donna, and thank you: lovely!
Posted 01/04/2017 05:30 AM