The thin line of icy snow running half way up
the kitchen door announces it is winter.
Temperatures have fallen below freezing.
 
Mid-afternoon I turn on the stove,
let the beef stew we'll be having for supper
simmer for a few hours. Early evening
we sit around the dining table, stew and bread
warming our spirits while the line of ice becomes
more solid as the night temperature drops.
 
Our main topic of conversation during dinner
is, naturally, getting a new, heavier door
for the kitchen. One that will seal against the frame
without leaving a crack through which winter
can so easily find us.
 
Enveloped by the comforting steam rising
from the hot bowls of stew, we talk
about how in the spring, we'll fill the garden
with sunflowers, zinnias and snapdragons,
tomatoes, carrots and beans. We talk about
going for walks to the nearby park
every week-end.
 
How we'll paint the bedrooms and the kitchen—
and let's not forget our relatives. This perhaps
will be the year we'll visit that nephew
who now lives in Europe or, at least, we'll
make to the Grand Canyon.
 
Next winter we sit around the table, a year older.
We never made it to Europe or the Grand Canyon
though we did take several walks around the park.
Summer flowers are now a pleasant memory.
Tomatoes, carrots and beans all stored or consumed.
 
and we'll meet again at the dining  table—
you, me and that icy line reappearing
along the door that keeps looking at me
as I adjust the flame of the burner
under the pot of beef stew.

© by Nydia Rojas.
Used with the author's permission.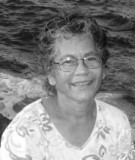 Nydia Rojas divides her time between writing poetry and working in her garden. "Somehow," she says, "each activity inspires the other, and each season I look forward to lots of beautiful blossoms and new topics on which to base my poems." Nydia is the author of one chapbook, Stealing Daylight, and lives in Middleton, Wisconsin.
jtmilford:
Beautiful poem of real life. Thank you
Posted 01/08/2017 07:14 PM
Lori Levy:
Beautiful poem!
Posted 01/08/2017 11:58 AM
Larry Schug:
Just great. These words take me to a different place, though one similar to my own. The nature of human nature.
Posted 01/08/2017 08:11 AM
blueskies:
Yes. For sure. Charming & so warming. Thanks, Nydia.
Posted 01/08/2017 07:41 AM
Katrina:
I like the way the rest of the world is kept at bay.
Posted 01/08/2017 07:06 AM
JanetruthMartin:
Simplicity at this best.reveling in the moment with a bit of looking back, a bit of looking ahead!Thank-you!
Posted 01/08/2017 06:48 AM
vscholtz:
The familiar - the sublime - the reassurance of seasons' change. Thanks
Posted 01/08/2017 06:38 AM
rhonasheridan:
A poem of real charm.
Posted 01/08/2017 05:49 AM