one thing itís something else:
a checkbook to balance,
bills to pay, a dripping faucet†
on the bathroom sink,†
an unexpected sheet rock sag,
the absence of light from†
a burnt out bulb. You ought to†
know the drill by now,
or the hammer, pliers, electric
broom. Murphy's Law
in room after room, like the
sudden surprise of a†
sonic boom rattling the hutch†
in the dining room.†
Enough is enough. You say it
each time, a bluff that gets†
called without reason
or rhyme. Now itís the door
bell refusing to chime.
© by Phebe Davidson.
Used here with the authorís permission.
†
†
†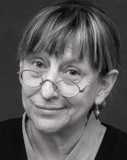 Phebe Davidson is a recovering academic, the author of twenty-some published collections of poems, a contributing editor at Tar River Poetry and a staff writer for The Asheville Poetry Review. Her latest book is What Holds Him to this World (Ninety-Six Press, 2014), which was awarded the 2013 South Carolina Poetry Archives Book Prize. A native of New Jersey, she now lives in Greenville, SC.
blueskies:
If a poem could be a pixie---this one is it! Much fun & glee & magic. Thanks, Phebe
Posted 01/14/2017 02:41 PM
Jancan:
Love it! Janice
Posted 01/14/2017 10:49 AM
Lori Levy:
Very true!
Posted 01/14/2017 10:45 AM
Jean Colonomos-1:
Jean Your poem puts a smile in my belly.
Posted 01/14/2017 10:16 AM
hujsaked@aol.com:
That's life! Just have to get on with it, Phebe.
Posted 01/14/2017 09:07 AM
Jean :D:
Wow! Phebe must have been peeking in my windows & got the inspiration for this insightful (ahem) poem!
Posted 01/14/2017 08:53 AM
paradea:
I like this poem!!
Posted 01/14/2017 08:24 AM
Gilbert Allen:
Home is the place where, when you have any money, it has to take it all! Fun poem, Phebe.
Posted 01/14/2017 07:58 AM
David:
Good poem! Would say more, but need to get going and clean the gutters.
Posted 01/14/2017 07:38 AM
Larry Schug:
Not personally knowing you, I have to say I love the match of your expression in your photo with this poem of the ol' money pit.
Posted 01/14/2017 07:19 AM
r1manchester:
Another nifty little gem from Ms. Davidson.
Posted 01/14/2017 04:30 AM
rhonasheridan:
Been there. Was a happy renter for twelve easy years! Great to see the problems in delightful print.
Posted 01/14/2017 03:34 AM