For Ruby--still here at 93 years
It could be thirty years ago, this place.
The same light fixtures, fading walls
patterned booths. The same four chairs
lined up beside the door for busy times
like after church. A place to put her walker.

We order what we've always had –
only now for seniors – a pancake,
whipped cream, strawberries, sausage,
bacon and a single egg over medium well.
The waitress smiles it's been done before.

My mother is comfortable here, says
it's the same waitresses, the younger one
the tall woman's daughter. I like it here.
The memory of pumpkin pancakes
when my father was still alive, how he

liked to treat us, paid the tab as if out
somewhere swanky with the best girls
in town. Today, after a trip to the doctor's
and a drive to see magnolias in bloom
it is the perfect spot.

© by Judith Heron.
Used with the author's permission.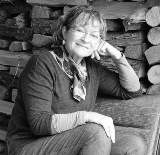 Judith Heron lives in Victoria on Vancouver Island. She has been published in a number of chapbooks edited by Patrick Lane, and in three anthologies: A Murder of Crones (Ptarmigan Press 2007), The Wild Weathers: a gathering of love poems (Leaf Press 2012), and Poems from Planet Earth (Leaf Press 2013). Though she has always lived on the west coast of Canada, Judith cherishes the homestead traditions of her prairie heritage. She relishes the rituals of becoming an elder, which include permission to visit and work in variuos gardens and to spend more time 'with the birds.'

Suz:
As always, when I read your poem I fall head first, smell those sausages and look over to see you all gathered, past and present. Thank you for taking me to your precious memory, Judith.
Posted 01/16/2017 08:21 PM
blueskies:
Loved how you combined back then with the now.Much delight in this poem. Thank you, Judith
Posted 01/16/2017 01:24 PM
erinsnana:
I love this!
Posted 01/16/2017 12:27 PM
Lori Levy:
Captures the atmosphere beautifully.
Posted 01/16/2017 12:01 PM
wendy morton:
Lovely. Delicious.
Posted 01/16/2017 10:52 AM
KevinArnold:
What a wonderful poem, rooted in acceptance.
Posted 01/16/2017 10:20 AM
Jean Colonomos-1:
How home-y.
Posted 01/16/2017 09:10 AM
Jancan:
I love the nostalgic tone in this poem--and the scene it paints. Janice
Posted 01/16/2017 08:24 AM
Larry Schug:
The words about the father in this poem are truly touching. They opened my eyes in a new way. Thank you, Judith.
Posted 01/16/2017 07:36 AM