like this morning, when the wild geese came squawking,
flapping their rusty hinges, and something about their trek
across the sky made me think about my life, the places
of brokenness, the places of sorrow, the places where grief
has strung me out to dry. And then the geese come calling,
the leader falling back when tired, another taking her place.
Hope is borne on wings. Look at the trees. They turn to gold
for a brief while, then lose it all each November.
Through the cold months, they stand, take the worst
weather has to offer. And still, they put out shy green leaves
come April, come May. The geese glide over the cornfields,
land on the pond with its sedges and reeds.
You do not have to be wise. Even a goose knows how to find
shelter, where the corn still lies in the stubble and dried stalks.
All we do is pass through here, the best way we can.
They stitch up the sky, and it is whole again.
From Radiance (Word Press, 2005).
This poem first appeared in The Christian Century.
Used here with the author's permission.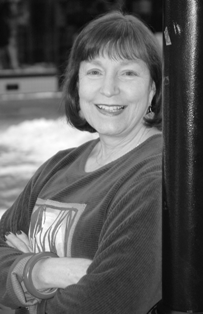 Barbara Crooker's poems have appeared in numerous magazines, journals, and anthologies and have been featured on the BBC, the ABC (Australian Broadcasting Company), The Writer's Almanac, and in the Poetry at Noon series at the Library of Congress. Her awards include three Pennsylvania Council on the Arts Creative Writing Fellowships, fifteen residencies at the Virginia Center for the Creative Arts, and a residency at the Moulin à Nef in Auvillar, France, which inspired her newest book, Les Fauves. Barbara lives in Fogelsville, Pennsylvania; read more about her at www.barbaracrooker.com.
Ginny C.:
A really lovely poem, and filled with the hope many of us need right now.
Posted 01/21/2017 04:07 PM
KevinArnold:
Wonderful line: the leader falling back when tired, another taking her place.
Posted 01/20/2017 05:03 PM
ghctenmile@earthlink.net:
As always, it is a pleasure to read Barbara's poems. Thanks to her for writing them and to YDP for publishing them.
Posted 01/20/2017 04:54 PM
transitions:
"You do not have to be wise"....Loved this poem, so many wonderful lines. What a gift ~ thank you.
Posted 01/20/2017 03:10 PM
Janet Leahy:
When the leader gets tired another takes her place, they've worked out leadership in a fine way. Thanks Barbara.
Posted 01/20/2017 02:45 PM
DavidTookey:
" And still, they put out shy green leaves ". Perfect for today. What we all need to be thinking! Thank you.
Posted 01/20/2017 12:48 PM
joecot:
I had an uncle who would not tolerate fools. He's say "he hasn't the sense God gave geese." Today of all days he would be using that phrase a lot. Let us hope the rest of us can stitch up the sky.
Posted 01/20/2017 12:19 PM
Lori Levy:
Beautiful poem!
Posted 01/20/2017 11:50 AM
peninsulapoet:
Just the poem I need this morning. Love.
Posted 01/20/2017 09:56 AM
wendy morton:
For all the places of brokenness, the places of sorrow. A perfect time for this poem.
Posted 01/20/2017 09:30 AM
Jean Colonomos-1:
A special poem from a special poet.
Posted 01/20/2017 09:22 AM
Laurenepersons:
Time to "stitch up the sky." At this time of uncertainty, this poem is the perfect reminder.
Posted 01/20/2017 08:52 AM
ed werstein:
Wowza.
Posted 01/20/2017 08:25 AM
kohler@technest.org:
This is a beautiful piece, characteristic of Barbara Crooker's work in its wonderful detail and movement from the outer to inner worlds of experience.
Posted 01/20/2017 08:22 AM
Sharon Waller Knutson:
Barbara Crooker and Mary Oliver are two of my favorite nature poets. So this poem was a delightful wakeup call this morning. I could almost hear the geese "squawking" and see them "flapping their rusty hinges" and "stitch up the sky, and it is whole again."
Posted 01/20/2017 08:22 AM
blueskies:
Truly radiant! Thank you & bless you, Barbara.
Posted 01/20/2017 07:45 AM
Larry Schug:
I've always been intrigued by the idea of who, what, where and when we are when something like a flight of geese pulls us completely out of our lives for a moment. How do we even remember to breathe? Such an excellent poem!
Posted 01/20/2017 07:38 AM
rhonasheridan:
Very uplifting
Posted 01/20/2017 07:26 AM
paula:
Love this!
Posted 01/20/2017 07:10 AM