Late lies the wintry sun a-bed,
A frosty, fiery sleepy-head;
Blinks but an hour or two; and then,
A blood-red orange, sets again.
Before the stars have left the skies,
At morning in the dark I rise;
And shivering in my nakedness,
By the cold candle, bathe and dress.
Close by the jolly fire I sit
To warm my frozen bones a bit;
Or with a reindeer-sled, explore
The colder countries round the door.
When to go out, my nurse doth wrap
Me in my comforter and cap;
The cold wind burns my face, and blows
Its frosty pepper up my nose.
Black are my steps on silver sod;
Thick blows my frosty breath abroad;
And tree and house, and hill and lake,
Are frosted like a wedding cake.
This poem is in the public domain.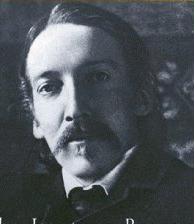 Scottish writer Robert Louis Stevenson (1850-1894) is, for many of us, the first poet to whom we were introduced, through his wonderful book, A Child's Garden of Verses. Though he came from a family of engineers and it was expected he would follow suit, Robert wrote stories even as a child; no one was really surprised when, three years into his engineering studies at the University of Edinburgh, he abandoned them to study writing. Always an avid traveller, despite lifelong poor health, Robert spent much of his life looking for a place to live that offered some respite from his illnesses. A prolific writer of poetry, fiction (Kidnapped, Treasure Island, and The Strange Case of Dr. Jekyll and Mr. Hide are his best known), travelogues, and political essays, he is properly revered today as a major literary figure, although in the early twentieth century, he was temporarily dismissed and disdained as "a children's author." Ultimately, Robert ending up living in Samoa, happy and productive until a stroke abruptly ended his life at the age of 44.
blueskies:
What a pure joy! Thanks RLS & Jayne!
Posted 01/29/2017 09:55 AM
KevinArnold:
Isn't RLS wonderful though?
Posted 01/29/2017 09:06 AM
cork:
And we must remove snow drifts this pink morning.
Posted 01/29/2017 08:28 AM
Sharon Waller Knutson:
I love Robert Louis Stevenson. I enjoyed his metaphors and similes: "a frosty fiery sleepy head" and "blood red orange" and "hill and tree and house and hill and lake frosted like a wedding cake."
Posted 01/29/2017 07:59 AM
JanetruthMartin:
love this. esp. the imagery in the last two lines!
Posted 01/29/2017 06:50 AM
Jean :D:
Our regular bedtime story read to my sister & me, when very young, was a selection from 'A Child's Garden of Verses' but unfortunately never heard this one. This covers the whole winter scene!
Posted 01/29/2017 06:12 AM
rhonasheridan:
My brother often said "A lot of frosty pepper today!" - now I know where he got it from! Loved the poem.
Posted 01/29/2017 03:29 AM
David Lloyd-Jones:
When we bought our Canadian farm (My parents had had one in Wales, before I was born) we found an old sled in one of the barns. There being no reindeer available, we hitched it up to a horse. Oh, the bone-shaking! Kudos to the inventor of the pneumatic tire! -dlj.
Posted 01/29/2017 02:57 AM