I'm wearing my Ralph Lauren sweater,
my Adidas shirt, a government of Canada vest;
all off the dollar rack at St. Vincent de Paul.
I put on ski pants given to me by a friend,
a jacket we found on the roadside years ago.
I pull on my gumboots.
I'm ready for the snow.
I walk through the white world
to the pond.
The mirror of this small winter;
it holds the sky, the snow trees,
the ballet of fern and salmonberry.
I dance.
© by Wendy Morton.
Used with the author's permission.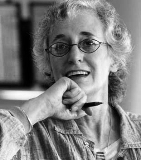 Wendy Morton, a retired insurance investigator, is the author of six books of poetry, a memoir--Six Impossible Things Before Breakfast--in which her adventures as a corporate sponsored poet are revealed, and a set of poetry postcards. Founder of Canada's Random Acts of Poetry project, she recently received a Meritorious Service Medal for her work with The Elder Project. Wendy lives in Sooke, British Columbia. Learn more about her here.
mimi:
love thrift shops and love this poem! Hi Wendy, from Sharon Auberle
Posted 02/15/2017 06:45 PM
transitions:
Loved it
Posted 02/15/2017 06:31 PM
blueskies:
Delightful & enchanting! Thanks, Wendy.
Posted 02/15/2017 02:00 PM
Lori Levy:
Love the details of the clothing and the images of winter mirrored in the pond.
Posted 02/15/2017 01:58 PM
njc:
"the ballet of fern and salmonberry"--nice! Brings memories of skating with my sister on the horse-pasture pond.
Posted 02/15/2017 10:49 AM
plgoodman:
Perfect, Wendy. Such simplicity of being there and cherishing a beautiful moment. Thank you.
Posted 02/15/2017 07:10 AM