So many gods, so many creeds,
So many paths that wind and wind,
While just the art of being kind
Is all the sad world needs.
This poem is in the public domain.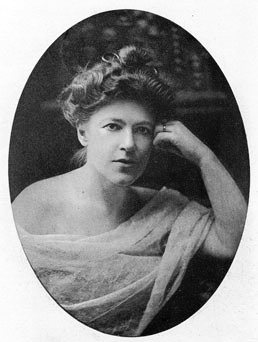 Ella Wheeler Wilcox (1850-1919) was a popular and prolific poet. Published and lauded before she even graduated from high school, Ella preferred to write happy, upbeat poetry and was much beloved for it. More than a dozen of her poems are included in the book, Best Loved Poems of the American People (Doubleday, 2008). The familiar saying, "Laugh and the world laughs with you, weep, and you weep alone. . ." comes from her best-known poem, "Solitude." A morally strong and spiritual person, Ella believed that her purpose on earth was to practice kindness and service. Read more about her here.
transitions:
Still and always...
Posted 02/17/2017 11:51 AM
Lori Levy:
So true!
Posted 02/17/2017 10:02 AM
Michael:
Wonderful post, Jayne, especially during this season of political acrimony through which we are passing in our nation. Thank you.
Posted 02/17/2017 08:23 AM
Barry:
Concise, simple, and profound.
Posted 02/17/2017 07:45 AM
cork:
In a nutshell!
Posted 02/17/2017 07:41 AM
KevinArnold:
I'm a great EWW fan but hadn't seen this. We're in great need of simpler thoughts now. A gem.
Posted 02/17/2017 06:22 AM
rhonasheridan:
What lovely words
Posted 02/17/2017 06:11 AM
Laurenepersons:
In a world where it is okay, even lauded, to say whatever you want, how you want without care of whom it may hurt, this simple poem should be mandatory reading.
Posted 02/17/2017 05:32 AM