Palm trees speak to the wind
with clattering leaves, coconuts fall
out of restless embrace –
Low waves wrap warm hands
round my ankles, pull
sand out from under
my naked feet.

Through purple clouds,
the sienna moon rises, pours light
on the evening dark water –
She is full, her dreams not yet fallen
on sleepers,
while sleep still awaits.
This poem first appeared in published in Musings: An Anthology of Work
by the Collingwood Writers' Collective (Collingwood Public Library, 2016).
Used here with the author's permission.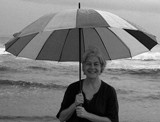 Susan Wismer is a poet, gardener (her life, she says, is "punctuated by my relationships with the plants and trees in my yard"), grandmother, and dancer. Widely published in journals and anthologies, Susan lives "gratefully nested" at the shores of Georgian Bay in Collingwood, Ontario, Canada.
Lori Levy:
Feels very soothing,calming.
Posted 02/19/2017 02:38 PM
Jancan:
Absolutely lovely--great imagery and use of personification! Janice
Posted 02/19/2017 12:50 PM
blueskies:
My favorite line---the sienna moon rises. Lovely poem. Thanks, Susan.
Posted 02/19/2017 09:15 AM
Katrina:
I could do with some of that.
Posted 02/19/2017 02:33 AM