My mother's voice is high and clear,
my father's almost tender, as they
sing through the Holland Tunnel
across the blue New Jersey line,
"You made me love you,
I didn't want to do it, didn't want to do it."

We sing on Sunday drives
to Coney Island in December,
"HA double RIGAN spells Harrigan",
to Jersey City wakes and weddings.
"Show me the way to go home,
I'm tired and I want to go to bed."

We sing down the east coast
through three days of bologna
sandwiches and four retread blowouts.
Sing, all the way to Florida,
"Good night Irene, Good night Irene,
I'll see you in my dreams."
© by Tere Sievers.
Used with the author's permission.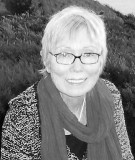 Tere Sievers, originally a Jersey Girl, now lives in Long Beach, California with her husband, Ron, and four chickens: Fifi, Betty, Mildred, and Hawk. She's the author of a children's book, Blueberry Pancakes and Monkey Pajamas, written to celebrate her grandchildren, and a poetry chapbook, Striking Distance, published by Arroyo Seco Press. Tere teaches at the Osher Lifelong Learning Institute at California State University, Long Beach.
barbara eknoian:
Such a lovely memory. I relate to rides through the tunnel and all the way to Florida. Sweet!
Posted 03/04/2017 03:58 PM
barbsteff:
Charming! Well done.
Posted 02/26/2017 07:28 PM
blueskies:
My childhood reincarnated, Tere! Great poem. Thanks so much.
Posted 02/26/2017 12:56 PM
TheSilverOne:
My kids sang, and I remember the trips made affordable with a loaf of bread and baloney. Fun memories! Thank you!
Posted 02/26/2017 11:26 AM
joecot:
On the road again, I just can't wait to get on the road again...
Posted 02/26/2017 11:07 AM
Lori Levy:
Love the way the music blends in with the details of place and the bologna sandwiches.
Posted 02/26/2017 10:05 AM
loisflmom:
Tere, you were in OUR car. Same songs, but no harmony.
Posted 02/26/2017 09:26 AM
cork:
Brings back memories.
Posted 02/26/2017 08:42 AM
Jean :D:
With 4 of us kids, Dad & I singing the melody, the rest 4-part harmony, those Sun. cars rides were joyous! Do families still do that I wonder?
Posted 02/26/2017 03:36 AM
rhonasheridan:
Yes, we did too. Oh, what a beautiful morning - !
Posted 02/26/2017 03:17 AM
erinsnana:
I loved this! I was right there in your car!
Posted 02/26/2017 02:04 AM