The cheese-mites asked how the cheese got there,
And warmly debated the matter;
The Orthodox said that it came from the air,
And the Heretics said from the platter.
They argued it long and they argued it strong,
And I hear they are arguing now;
But of all the choice spirits who lived in the cheese,
Not one of them thought of a cow.


This poem first appeared in Pen and Pencil (June 1898).
It is now in the public domain.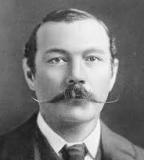 Arthur Conan Doyle (1859 - 1930) was a British author and physician best known for creating the character Sherlock Holmes. In addition to that wildly successful series of crime stories, he also wrote plays, poetry, nonfiction, and historical books. Conan, as he was called, credited his love for writing and storytelling to his mother, who had little money but a lively imagination that she used in creating stories to entertain her children. A friend and classmate at the University of Edinburgh of James Barrie (author of Peter Pan) and Robert Louis Stevenson, Conan was an active athlete and a devoted spiritualist. Learn more about him at http://www.arthurconandoyle.com.
barbsteff:
Wonderful! Who knew that ACD could crank out clever poetry?
Posted 03/01/2017 02:44 PM
blueskies:
Delightful! Thanks, Arthur & Jayne .
Posted 02/28/2017 08:50 AM
KevinArnold:
Im struck with his unexpected sense of music. I'd imagine he and RLS hit it off quite well. And James Barrie--my goodness!
Posted 02/28/2017 08:33 AM
Jancan:
This entertaining piece concisely makes a strong point about how debating groups may overlook the obvious. Janice
Posted 02/28/2017 08:25 AM
Jean :D:
"...just a bit of fun..."? just a bit of understatement! This is great!! (clever, Katrina! ;-)
Posted 02/28/2017 05:46 AM
Katrina:
Elementary!
Posted 02/28/2017 02:37 AM