After rain in the woods, red newts
scramble from matted leaves and rotting
logs, beacon for a boy focused on
anything that moves.  He scoops each
into a plastic bucket, counts twenty
wriggling bodies, notes distinguishing
traits -- white dot, fat legs, pale head.
By turns tender and rough, he holds
a favored one, reluctant to return
it to the wet dark, boundless
as anything he's felt.  He will learn
that this world of wind creaks
and tree groans, fur and husk
will not be owned beyond
the lure of its wild singing.
From Odd Mercy (Headmistress Press, 2016).
Used here with the author's permission.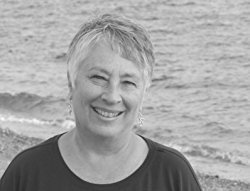 Gail Thomas is the author of four books of poetry, one of which, Waving Back, was named a ?Must Read for 2016" by the Massachusetts Center for the Book. Her most recent collection, Odd Mercy, explores a difficult mother/daughter relationship that is further complicated by the mother's dementia. Gail lives in Western Massachusetts, where she works as a learning specialist and teaches at Smith College. Learn more about her at gailthomaspoet.com.
transitions:
That last line is so memorable, wow!
Posted 03/04/2017 12:57 PM
wendy morton:
wild singing!
Posted 03/03/2017 10:21 AM
Lori Levy:
Great poem. Especially like the last line.
Posted 03/03/2017 09:37 AM
Barry:
A beautiful and concise poem. Thanks.
Posted 03/03/2017 07:49 AM
plgoodman:
Absolutely beautiful Gail. The. Last line blew me away! Thank you.
Posted 03/03/2017 06:23 AM
Katrina:
For some reason Jayne's introduction reminded me of 'The White Tiger' by Aravind Adiga; it reminded me how animate we are.
Posted 03/03/2017 03:04 AM