Rain asks for nothing
yet gives itself away for free
so generously
From On the Dock: Haiku & Short Poems (Wolfsong Publications, 2017).
Used with the authorís permission.
†
†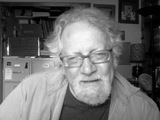 Gary Busha is a Wisconsin native who likes that state's changing seasons. His poetry — lean and plain-spoken, with themes of nature and lament — is strongly influenced by his good fortune in having grown up on Lake Winnebago. A poetry chapbook publisher for many years, Gary has three chapbooks of his own, and he has recently finished 12 pocket-sized mini-series of haiku. Query gbusha@wi.rr.com for a free sample.
toni:
Gary,I've enjoyed this piece and I will remember it.
Posted 03/19/2017 08:44 AM
transitions:
Enjoyed your haiku Gary. Judy
Posted 03/16/2017 09:29 PM
TheSilverOne:
Purely beautiful.~
Posted 03/16/2017 10:48 AM
hujsaked@aol.com:
How would a rainmaker make a living?
Posted 03/16/2017 09:23 AM
David:
Very nice!
Posted 03/16/2017 08:39 AM
cork:
Is it against the law to capture rain in Colorado?
Posted 03/16/2017 08:06 AM
Larry Schug:
Rain is free. Water costs money. Poems are on loan.
Posted 03/16/2017 07:29 AM
phebe.davidson@gmail.com:
Indeed!
Posted 03/16/2017 05:46 AM