Full-throated beckoning
of sand hill cranes
fills the sky.
Not yet gone mounds of white
continue to melt.
Underneath, earth gathers itself —
soft soil readied by sun
and worm movements
within.

A woodpecker's steady knocking,
the urgent gusts of winter wind
sighing its last breath —
harbingers of change.

We, too, untangle our roots —
allow ourselves to separate bodies
from wool sweater cocoons
and down blankets.
We unfurl ourselves —
reveal bare skin,
squint at brightness,
savor sunlight,
and drink in the awakening.
This poem first appeared in The Avocet (2016).
Used here with the author's permission.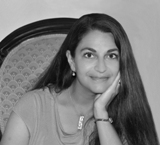 Cristina M. R. Norcross lives in Wisconsin with her husband, their two sons, and a cat who loves to sleep on a warm, humming computer. Cristina is the founding editor of the online poetry journal, Blue Heron Review, and the author of seven poetry collections. When not writing or editing, she travels to distant lands and designs jewelry from found treasures. Learn more about Cristina at www.cristinanorcross.com.
Kathleen Carlson:
Lovely poem, Cristina. It reminded me of e.e.cummins' style and how words fall into each other and then gather themselves for the final impact. Kathleen Carlson
Posted 03/20/2017 02:57 PM
rhonasheridan:
Oh yes!
Posted 03/20/2017 05:39 AM
barbsteff:
Lovely. When can we get started?
Posted 03/19/2017 04:03 PM
Michael:
Well done, Cristina! You've capture nature's transition with grace and elegance.
Posted 03/19/2017 03:15 PM
transitions:
Beautifully written.
Posted 03/19/2017 01:00 PM
Jancan:
This is so descriptively lovely. Janice
Posted 03/19/2017 12:55 PM
cristinamrnorcross:
Thank you all so much for these absolutely lovely comments. As much as I enjoy the meditative, soul-searching hibernation of winter, my spirit is definitely looking ahead to the grand awakening of spring!
Posted 03/19/2017 10:37 AM
Gail Goepfert:
Love the finale with the awakening! Lovely, Cristina!
Posted 03/19/2017 10:20 AM
cork:
Will the flickers soon be knocking?
Posted 03/19/2017 09:40 AM
Glen Sorestad:
I love the untangling image for Spring. Well done, Cristina.
Posted 03/19/2017 09:27 AM
KevinArnold:
Ah, the turn to the personal--so strong: "We, too, untangle our roots – / allow ourselves to separate bodies / from wool sweater cocoons / and down blankets."
Posted 03/19/2017 09:10 AM
toni:
Such a sweet piece.I can feel the untangling as I read this piece.
Posted 03/19/2017 08:41 AM
devitt.laur@eagle.uwlax.:
Love how this makes me "feel" the awakening. Thanks, Christina. Laurel Devitt
Posted 03/19/2017 08:21 AM
Stephen Anderson:
Your poet's eye shines in this wonderful poem, Cristina .
Posted 03/19/2017 07:56 AM
mimi:
true and sweet poem, Cristina!
Posted 03/19/2017 07:28 AM