He that would wish to rove awhile 
In forests green and gay, 
From Charleston Bar to Catharines Isle 
Might sigh to find the way! 
What scenes on every side appear, 
What pleasure strikes the mind, 
From Folly's train, thus wandering far, 
To leave the world behind.

The music of these savage groves 
In simple accents swells, 
And freely here their sylvan loves 
The feathered nation tells; 
The panting deer through mingled shades 
Of oaks forever green 
The vegetable world invades, 
That skirts the watery scene.

Thou sailor, now exploring far 
The broad Atlantic wave, 
Crowd all your canvas, gallant tar, 
Since Neptune never gave 
On barren seas so fine a view 
As here allures the eye, 
Gay, verdant scenes that Nature drew 
In colours from the sky.

Ye western winds! awhile delay 
To swell the expecting sail, ?
Who would not here, a hermit, stay 
In yonder fragrant vale, 
Could he engage what few can find, 
That coy, unwilling guest 
(All avarice banishd from the mind),
Contentment, in the breast!
This poem is in the public domain.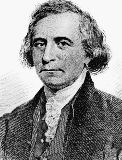 Philip Freneau (1752 - 1832) was born in New York City to a Huguenot wine merchant. He studied at Princeton (James Madison was his roommate) and originally planned to be a minister, but his passionate support of American independence thrust him in a different direction. Sometimes called the "Poet of the American Revolution," Philip was a prolific writer of patriotic essays, satire, and poetry. He also served as a teacher, privateer, sea captain, British prisoner of war, newspaper editor, and farmer in the course of his lifetime.
blueskies:
He captured this setting with great beauty. Especially so,'The music of these savage groves...' Thanks, Jayne.
Posted 03/21/2017 01:21 PM
Larry Schug:
An important message skillfully sent from the past is still true today, though contentment seems more difficult to acquire.
Posted 03/21/2017 07:40 AM