An excerpt
Annisquam
Old days, old ways, old homes beside the sea;
Old gardens with old-fashioned flowers aflame,
Poppy, petunia, and many a name
Of many a flower of fragrant pedigree.
Old hills that glow with blue- and barberry,
And rocks and pines that stand on guard, the same,
Immutable, as when the Pilgrim came,
And here laid firm foundations of the Free.
The sunlight makes the dim dunes hills of snow,
And every vessel's sail a twinkling wing
Glancing the violet ocean far away:
The world is full of color and of glow;
A mighty canvas whereon God doth fling
The flawless picture of a perfect day.

This poem is in the public domain.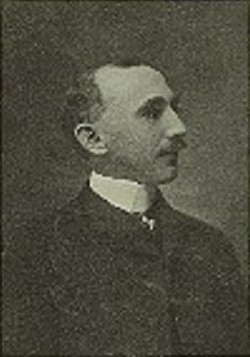 Madison Julius Cawein (1865 - 1914) was a poet from Louisville, Kentucky, who loved to write about nature. Sometimes referred to as "the Keats of Kentucky," Madison published more than thirty books of his own work and translated numerous others written by German poets. While nature was his favorite theme--his wonderfully detailed poems about his native state's flora and fauna have been called a "veritable nature guide to the Kentucky woodlands"--Madison also wrote about a broad range of other subjects, ranging from vampires to fairies. Critically popular, internationally acclaimed, and frequently published in contemporary magazines of his day, Madison was rendered almost destitute by the stock market crash in 1912 and was forced to sell his home and much of his library collection to survive.
JanetruthMartin:
Popped over to read the whole thing; each verse a masterpiece in poetry!
Posted 03/23/2017 04:47 PM
transitions:
Lovely poem.
Posted 03/23/2017 02:15 PM
Michael:
Jayne, Wonderful post and grand example of iambic pentameter perfectly practiced. This poet was a true master of technique. Michael Escoubas
Posted 03/23/2017 08:45 AM
Larry Schug:
A beautiful perspective of a place unfamiliar to a life-long Midwesterner. Thanks, Jayne.
Posted 03/23/2017 08:36 AM
rhonasheridan:
Such beautiful words. Is the rest of the poem as wonderfull?
Posted 03/23/2017 06:28 AM