They come from all directions to this bar
that is more Bedouin bazaar than big-box watering hole,
on the beach straddling the border between
Pensacola and Gulf Shores.

Weathered walls and windows,
sand-blasted and sun-scorched,
buttress battered canvas tents
sandwiched in whatever space remains
for the special events the bar offers
patrons, a cocktail of locals
Sandy from Perdido Key, Andy from Orange Beach
and refugees from wintry wastelands
Jeanne from Illinois, Mitch from Minnesota
this bright January day.

Flora-Bama boasts a complete menu,
numerous posted handbills attest:
Sundays Wilma from Iowa can come for church breakfast,
a bit of scripture with her scrambled eggs and bacon;
Wednesdays are "Community Pot-luck,"
when Tom and Sally from Michigan
are invited to pass a dish and break bread with strangers,
maybe drain a glass or two once awkward introductions
are chewed and swallowed.

Mondays are reserved for Bingo,
that most colloquial game of chance,
uniting players of all ages and backgrounds
in pursuit of prizes that run the table
from touristy tee shirts to free drinks,
your choice if those lucky balls of fortune fall
your way.

The veterans know to arrive early.
They wander in from the parking lot
or one of the many musical venue bars
the Flora-Bama offers visitors, some tucked away
in corners so obscure you wonder
if this "entertainment emporium"
isn't really a runaway carnival funhouse
hiding out between multi-story stone and glass condominiums.
The best seats are those near Bingo Caller Sam,
an elderly gent attached to a straw-weave field hat
whose drawl is thicker than overcooked grits.
This show is his, and he pushes a folksy repartee
polished from calling more Bingo
than is medically recommended a man his age.
The old ladies love him, of course, and the kids get a kick
as he singles them out for special notice:
Diane from Davenport is today's honorary judge;
any disputes will be hers to decide.
Nine year old Jimmy from Jersey City
is tabbed as personal assistant,
to help in dispensing prizes and distributing
Bingo sheets to the players at the tables.

Everyone's a winner today, Sam assures us
between games of "Alphabet" and "Cover-All,"
even if some of us will go home
empty-handed. Those who do win prizes
Liz from Sturgeon Bay or Kelly from Kentucky
are worked into the act for a joke or two,
followed by a victory twirl and a round of applause.

When the games finally end
with "Biggest Loser Left Standing,"
Dale from Indiana finally getting his
after seven unlucky balls are interminably called,
Sam waltzes us out into sunshine with one last gilded homily:
Y'all came in here as strangers, he says,
but y'all leavin' as friends, yes sir.
That's the Flora-Bama way!



© by Mike Orlock.
Used with the author's permission.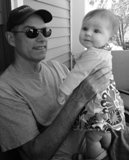 Mike Orlock is a retired high school English and American History teacher who splits time between the Chicago suburbs and a vacation home in Sturgeon Bay, Wisconsin. He has been married for 40 years to his high school sweetheart and inspiration, Liz, and greatly enjoys being grandfather to four beautiful little girls. Mike's short stories, poems, and reviews have appeared in a variety of publications and he was a Jade Ring winner in a contest sponsored by the Wisconsin Writers Association.
jtmilford:
A perfect description of the most interesting bar theater music "concert" circus & anything else that comes to mind. Try the mullet toss on spring break. I echo on this one BINGO!
Posted 03/26/2017 07:50 PM
transitions:
Fun at Flora bama, really enjoyed it.
Posted 03/26/2017 04:52 PM
barbsteff:
Excellent capturing of time, place, characters. Well done! And now I know why Sturgeon Bay made the cut.
Posted 03/26/2017 02:46 PM
rhonasheridan:
Wow! I've never been to a Bingo Hall - which now seems a great big pity! I loved this yarn of a poem. Such fun?
Posted 03/26/2017 11:00 AM
Janet Leahy:
Congratulations Mike on winning the Jade Ring! Love meeting the "cocktail of locals" in this poem.
Posted 03/26/2017 10:18 AM
Larry Schug:
Poetry is everywhere and sometimes it moves in with us like this poem does. Nice job, Mike.
Posted 03/26/2017 08:19 AM
mimi:
shoot me now, if ever I have to go to one of these! But, as always, Mike, a good good poem!
Posted 03/26/2017 07:35 AM
KevinArnold:
What an improbable, well-crafted poem. I loved the man calling the games and the names of them. Cover-all needs no explanation.i can imagine it going on and on and on.
Posted 03/26/2017 06:46 AM
Katrina:
I was instantly absorbed in a colloquial atmosphere I really enjoyed. Thank you, Mike.
Posted 03/26/2017 05:36 AM
r1manchester:
Bingo! on this one Mike.
Posted 03/26/2017 05:01 AM