The woods are giddy with song.
Small birds all blossoming,
frantic. They carve up the air
with phrases of hope?
look at me me me       
          here here I am here I am
                        fly to me to me to me.

The sparrow hawk also waits.

Under clouds hovering above the river,
an eagle, carrion eater majestic,
soars on the updrafts. Cocksure, he seeks
nothing.

Far down the bluff,
closer to the water,
a wild turkey struts.

Like a monotonous tune played
and replayed, his rust-colored tail feathers
fan out, close, droop, a come-hither
command. He stretches his blue-and-red-
wattled neck up and up until his head becomes
a periscope, turning,
searching. Hidden,

unresponsive, the hen broods
on her nest. Eleven eggs already.

What more does he want?


© by CJ Muchhala.
Used with the author's permission.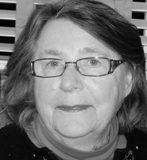 CJ Muchhala, when she's not reeling in poems, writes stories for her grandchildren, creates photo-ops for her shutterbug husband, and dispenses unsolicited advice to her patient sons. Her work has been featured in poetry/art exhibitions and published in anthologies and print and online journals. CJ lives in Shorewood, Wisconsin.
MLove:
Love this view. What great word pictures of all the birds!
Posted 03/30/2017 08:18 AM
toni:
So sweet. I've really enjoyed this poem.
Posted 03/30/2017 08:01 AM
Jo:
wonderful poem. Really like the title too.
Posted 03/29/2017 09:29 PM
transitions:
Loved it!
Posted 03/29/2017 04:15 PM
blueskies:
Agree with Janet. Felt being 'drawn in'. Really enjoyed this poem. Thanks, CJ.
Posted 03/29/2017 09:37 AM
Larry Schug:
I think it very skillful how this poem moves from a bucolic scene of "new love" to one of the reality of its result. The metaphor in this poem is excellent.
Posted 03/29/2017 07:50 AM
Janet Leahy:
I like the way this poem appears on the page, from the title and first line I'm drawn in.
Posted 03/29/2017 07:41 AM
rhonasheridan:
What a wonderful first verse.
Posted 03/29/2017 03:45 AM