Colors burst from the ground
like a child's fancies,
splashes of crocus, daffodil,
hyacinth, jonquil, narcissus.
New leaves fleck trees
with diaphanous green.
Blossom clouds puff
from shrub and tree,
and forsythia challenges
a cornflower sky
with impudent graffiti.
© by Richard Greene.
Used with the author's permission.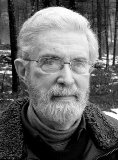 Richard Greene began writing poetry in the 8th grade, inspired by the opening lines of Longfellow's "Evangeline"—"This is the forest primeval. The murmuring pines and the hemlocks / Bearded in moss and in garments green, indistinct in the twilight"—which he was required to read in class. In college, after a classmate deemed Richard's rhyming poem "trite," he stopped writing until, a couple of years later, a class with Henry Rago, subsequently editor of Poetry magazine, inspired him to resume his efforts. But poetry fell by the wayside for almost forty years as a busy career in international development consumed his life. As retirement approached, however, Richard's dedication to poetry returned; he has now self-published a book (Explorations -Antrim House Books), and shares a "poem of the week" (get on the mailing list by requesting it at greeneplace@gmail.com). Learn more about Richard at www.greenepage.net.
barbsteff:
And to think they're retiring the glorious yellow crayola, dandelion! Wonderful images here.
Posted 03/31/2017 11:30 PM
blueskies:
Simply delightful! Thanks, Richard.
Posted 03/31/2017 12:53 PM
diktkonst:
A story from The Express-Times, Easton, PA, where Crayola crayons are made: http://www.lehighvalleylive.com/entertainment/index.ssf/2017/03/breaking_crayon_news_crayolas.html
Posted 03/31/2017 10:13 AM
Sarah Russell:
Just wonderful! And on National Crayon Day. Perfect!
Posted 03/31/2017 09:26 AM
Jancan:
Very creative use of figurative language! Janice
Posted 03/31/2017 08:18 AM
mjorlock:
Clever observations and surprising word play make for a terrific poem. Well done.
Posted 03/31/2017 07:55 AM