Of all the sounds that frame my hearing
nothing stirs me like thunder in the morning
sends me to a preternatural state of hope
compensates in ways I donít expect,
a gift from a cosmos I can only imagine.

I remember lilies around the walnut tree
the last thing I saw before sleep.
I hear birds singing through raindrops,
the swoop of wind through April leaves.

The world I manage is often parched,
athirst with wrongheaded desire,
dusty souls in need of a good stirring.
††

From†Margaritas & Redfish†(Lamar UP, 2013).
Used here with the authorís permission.
†
†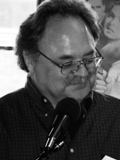 Ken Hada is a professor at East Central University in Ada, Oklahoma. Author of six books, he was raised in the rural Ozarks and enjoys hiking, flyfishing, and kayaking. Says Ken, "I find the natural order a powerful presence for writing. More than sentimental 'nature' poetry, I often situate a troubled or confused or lonely speaker of a poem within the natural rhythms, as an ordering, a correcting presence in the life of the poem."Ě Learn more about Ken at www.kenhada.org.
barbsteff:
Ah, I remember the promise of thunder in the morning. Good poem, thanks!
Posted 04/08/2017 01:38 PM
Michael:
Thank you, Ken--nicely done. Like "lilies around the walnut tree"--Michael
Posted 04/06/2017 12:04 PM
Maryann Hurtt:
Yes, dusty souls. Have a great Scissortail, Ken. Wish I could be there.
Posted 04/06/2017 10:14 AM
cork:
Beautiful balance!
Posted 04/06/2017 08:52 AM
David:
So nice. Excellent use of language and imagery.
Posted 04/06/2017 08:49 AM